ASIA'S LEADING MULTI-CHANNEL PLATFORM
TARGETED AT HIGH NET WORTH INDIVIDUALS SINCE 2005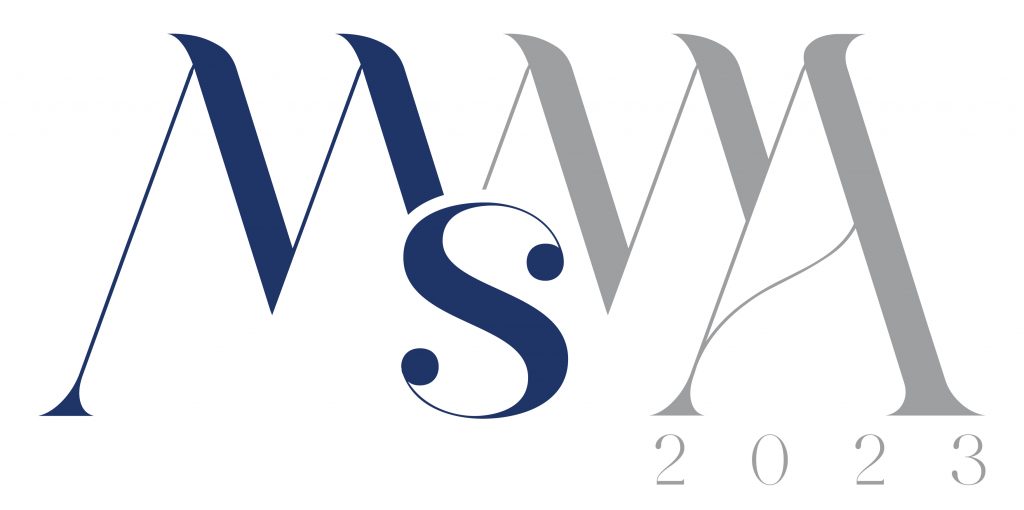 Message from CEO (Asia Pacific)
Empowering women is one belief, deeply rooted and shaped by my late mother. When I was appointed as the CEO (Asia Pacific) at Millionaireasia, I noted that more than 80% of the 40,000-strong database were male.
I feel that there is a need to raise awareness on women achievement and contribution by promoting more success stories of accomplished women in Asia. I am taking this passion for empowering women up a notch by launching MsMA 2023.
08 Mar 2023 
International Women's Day
Re: Change in Competition Dates, Video's price and waiver of Registration Fees
We refer to the MsMA 2023 Web 3.0 Influencer Competition Terms and Conditions ("T&Cs") dated 8 March 2023. We adopt the definitions and abbreviations therein.
This is to inform Contestants that MA has changed the Competition dates. In summary, the registration period, Quarter-Finals, Semi-Finals and Finals will end on 21 May 2023, 21 June 2023, 9 August 2023 and 28 September 2023 respectively.
In addition, the prices for the Personality video, Idea video & Value video has been amended to Singapore Dollar $10, $20 & $30 respectively. The minimum number of votes to qualify for the Semi Final, Final and Winner have been amended to a minimum of 1,000, 2,000 & 3,000 votes respectively.
We have decided to make these changes to reflect feedbacks and requests from our various partners and participants as well as in consideration of the popularity and demand of the Competition. These changes also reiterate our mission to empower women by facilitating greater access to the Competition, especially for those who may not reside in the cities in which MA has launched the Competition. We have also taken onboard feedback and requests from its various partners in making these changes.
Our Contestants will also have additional time to make the necessary preparations for the Competition and garner votes. Should there be any questions or concerns, please feel free to contact us at msma@millionaireasia.com.
The latest version of the T&Cs is appended to this letter and accessible via this link (www.millionaireasia.com/msma/terms-and-conditions/web3-influencer-competition).
In addition, to celebrate the International Women's Day, we have decided to waive the registration fees for the first 1,000 applicants. Those who have paid the registration fees prior to the announcement will be refunded in full.
We wish all Contestants a fulfilling and successful Competition!
Peter Tan
Millionaireasia Pte Ltd
Chief Executive Officer (Asia Pacific)
---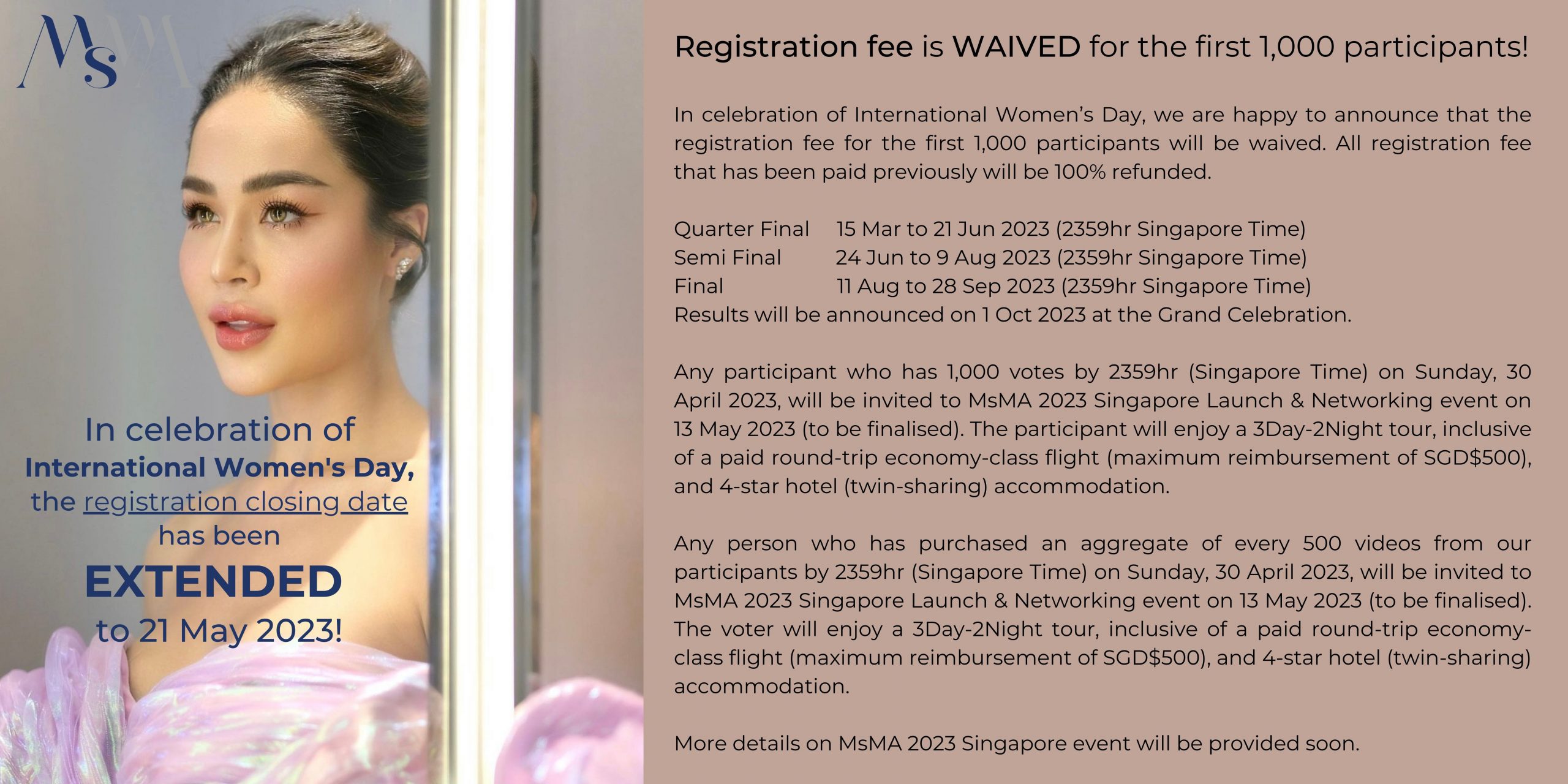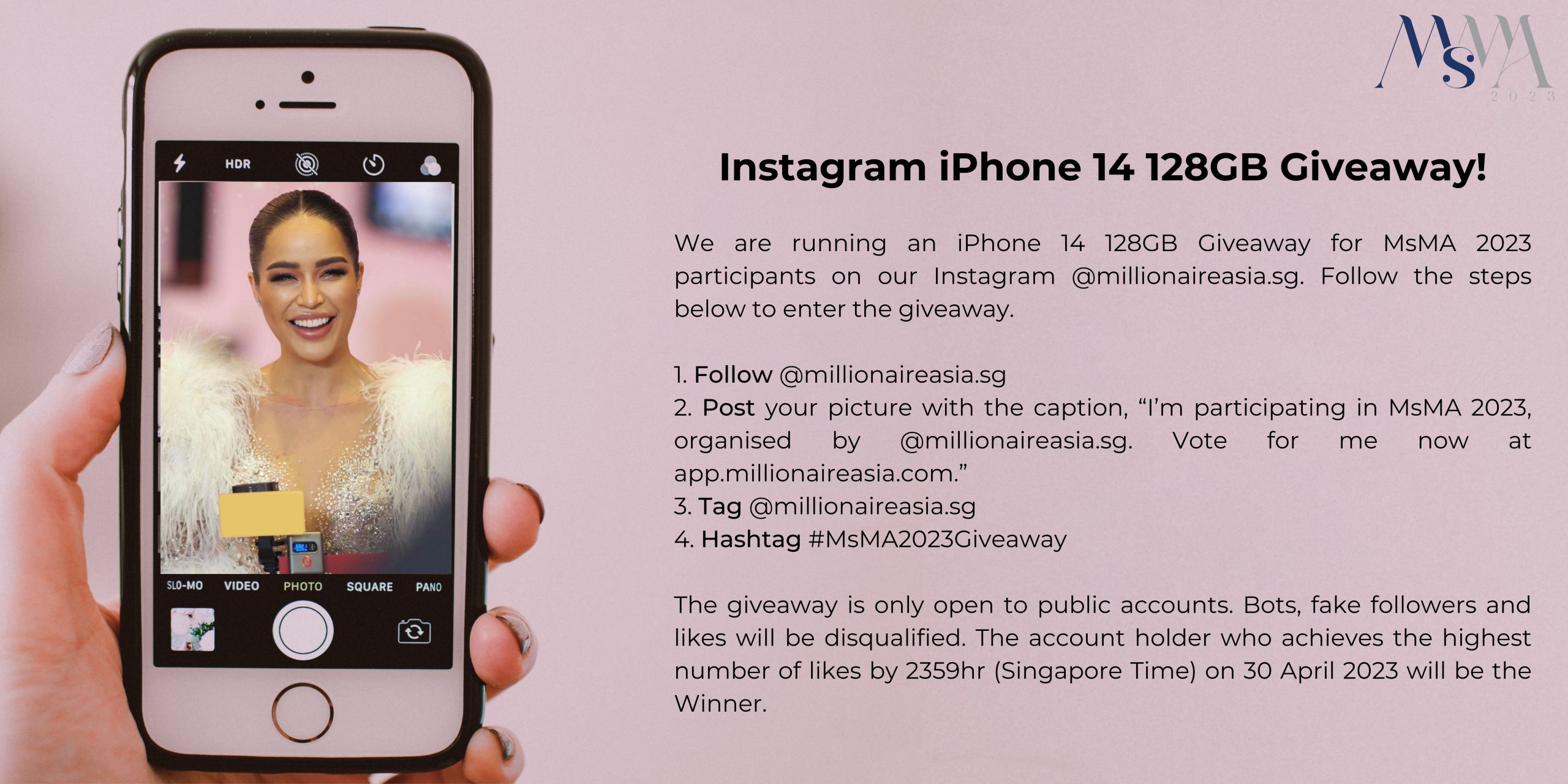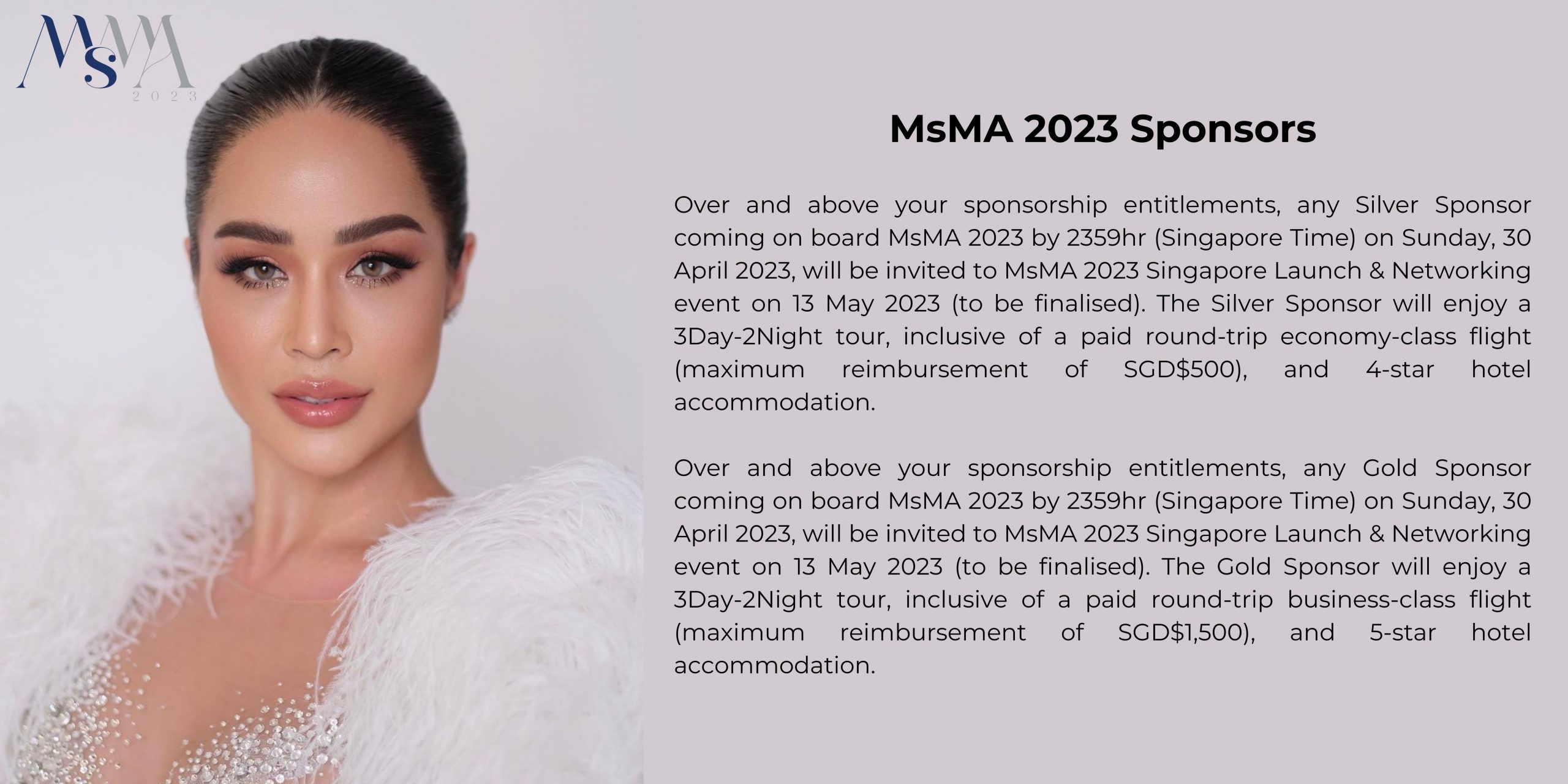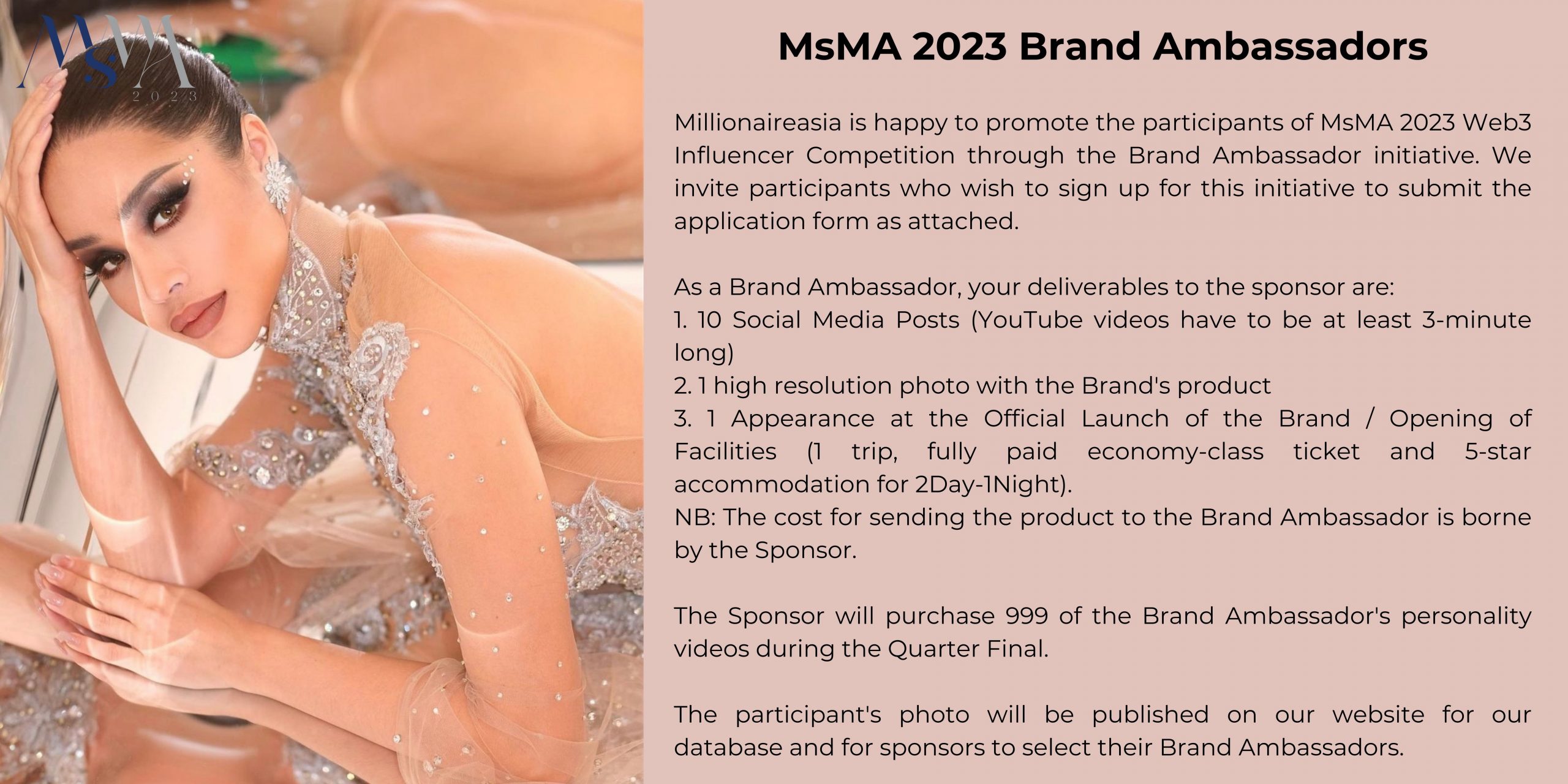 Participants and Voters (New Announcements)
iPhone 14 128GB Giveaway (New Announcements)
Sponsors (New Announcements)
Brand Ambassador Announcement
The Registration Period
14 February to 14 March 2023
Participants to register and submit profile photo and a 1-min Personality Video to qualify for the Quarter Final.
The Quarter Final
15 March 2023 to 21 May 2023
Successful semi-finalists have to submit a 2-min Idea Video.
The Semi Final
24 May 2023 to 9 July 2023
Successful Finalists have to submit a 3-min Value Video.
The Grand Final
11 July 2023 to 28 July 2023
The Champion will win *S$1 Million worth of prize.
How To Access Your Account
Jean Yip
With beginnings as a hairstylist understudy to Sylvia Kho, an established bridal hairstylist in the 1970s, Jean opened her first salon at Katong Plaza in 1982. Fast forward to today, Jean is the founder of the eponymous beauty and wellness company - the Jean Yip Group - that has grown to become an iconic name brand in Singapore.
Sharel Ho
Sharel, the managing director of DeFRED Jewellers, is constantly pushing the boundaries of DeFRED's creativity, design and craftsmanship to the highest echelon of the industry. And once she gets there, she will start all over again because she believes with all her heart that perfection can – and should – be improved on. It's the only way to grow.
Jane Tan
With 14 years of experience in the real estate industry, Jane became the Associate Deputy Group Director at OrangeTee & Tie in 2018, cementing her position as one of its top-performing agents. Despite having to constantly be involved with her 3 children, Jane also started a beauty aesthetics chain in 2019. Within 6 months, she won the Top SME 100 Award. Within the year, she clinched the Singapore Prestige Class Award.
For more information, visit our website www.millionaireasia.com or reach out to our team via email at msma@millionaireasia.com