MsMA Quarter Finals Lucky Draw
MsMA 2023 Registered Users
3,639
MsMA 2023 Participants
1,936
×
To ensure that MA Platform is updated to the latest version:
1. For Windows PC/Mac iOS, press Ctrl+F5 / Cmd+R.
2. For any mobile web browser, click Clear Cache & Clear History, or Clear Cache (for Android).
3. For the Android App, go to your Settings > Apps > MA Web3 Marketplace > Storage > Clear Cache
ASIA'S LEADING MULTI-CHANNEL PLATFORM
TARGETED AT HIGH NET WORTH INDIVIDUALS SINCE 2005
Version 4: 2 June 2023
Re: Inspirational Stories from Participants and Re-instatement of Registration Fees
Vesak Day is a time for quiet reflection on Buddha's teachings, joy and peace. Today, as we celebrate this sacred day with millions of Buddhists worldwide, I want to send my sincere wishes for happiness, harmony and peace to all women, participants, voters, employees of Millionaireasia and our partners across Asia.
Celebrating Vesak Day is making special efforts to bring happiness to the unfortunate like the aged, the handicapped, and the sick, through distributing gifts and volunteering at charitable homes. We'd like to commend a few of our less privileged participants who have shared their uplifting stories. The more I watch their videos, the more I am convinced that this competition has taken the right step forward to empower women. We are happy to announce that the participants come from all walks of life, from a Harvard medical graduate to entrepreneurs to top models and KOLs to businesswomen to women with disabilities, just to name a few - https://app.millionaireasia.com/.
With an increase in the number of participants, we have started our free education (United Nations Sustainable Development Goal 4 on Quality Education) in Vietnam, and subsequently in Philippines and Singapore. The participants will be taught the most important skill in life, the art of selling (Goal 1 on No Poverty) by the renowned Sales Godzilla and the power of using social media to garner votes. We are exploring working with a partner to incorporate AI capability to create social media posts to assist the participants to gain greater exposures. In addition, we will begin to plan and organise networking sessions for our participants to meet up with businessmen and millionaires after the registration closes.
Furthermore, we're exploring a potential partnership with the honourable Venerable Vudhijaya Vajiramedhi to provide MsMA 2023 participants the opportunity to learn meditation with him, aligned to the aims of our competition to empower women (Goal 3 on Good Health and Well-being). One of our Sponsors have signed exclusive marketing rights across Asia, on an excellent "Living Young" youth and longevity product, which we will provide opportunities (Goal 17 on Partnership) for our participants. Terms and conditions apply.
All our participants' videos are water-marked in the Millionaireasia Platform. Only voters who have purchased the video will enjoy the privilege of receiving the original video (without watermark).
Our website active users have reached a height of 7,200 in the last 30 days. In addition, we've captured eyeballs on social media, with more than 1 million reach on Instagram as at 23 May 2023. Our number of Instagram followers have increased from 2,109 to 4,645 ever since the beginning of the competition. We've also attracted the attention of the media and press, with the recent interview by CNN (Philippines) on MsMA 2023 Competition - https://www.youtube.com/channel/UC1B9YsHYXtEz7y02bDrgTEQ. Consequently, there is a surge in the number of participants from Philippines, which is both expected and encouraging.
On another note, Millionaireasia launched MsMA 2023 Competition with a registration fee of SGD$100 on 14 February 2023. On International Women's Day, we announced that the first 1,000 participants from 8 March 2023 will be entitled to the waiver of registration fees. The number of registered participants has reached 1,935 as at 1 Jun 2023. The number of registrations has exceeded 1,000 and the registration fee of SGD$100 will be reinstated.
Nevertheless, under special conditions, limited participants may continue to enjoy free participation. With effect from 29 May 2023, when a participant registers for the Competition under a registration fee waiver, she is required to post her participation in MsMA 2023 on her social media platform and tag Millionaireasia's Facebook (https://www.facebook.com/MillionaireasiaPteLtd) or Millionaireasia's Instagram (@millionaireasia.sg), together with the hashtag #MsMA2023 at least once per calendar week until the end of the Quarter Finals. This requirement ends when she has completed the sale of at least ten (10) Personality Videos. Any failure to meet this social media posting requirement may result in disqualification at Millionaireasia's discretion.
With 1,935 registered participants and a total of 3,576 registered users on our platform, we are awaiting to close the registration with a big bang for MsMA 2023. Of course, we are mindful that the success of MsMA 2023 depends greatly on the participation of a sufficient number of contestants, in relation to clause 2.5 of Annex D in the Terms & Conditions.
Please refer to the latest version of the T&Cs which is appended to this letter and accessible via this link (https://www.millionaireasia.com/msma/terms-and-conditions/msma-2023-competition/).
Should there be any questions or concerns, please feel free to contact us at msma@millionaireasia.com. We wish all participants a fulfilling competition!
Peter Tan
Millionaireasia Pte Ltd
Chief Executive Officer (Asia Pacific)
Version 3: 12 May 2023
Re: Activities Organised to Empower Women and Change in Competition Dates
Today, as we celebrate the International Labour Day, I want to send my sincere wishes and acknowledge the hard work of all the participants, voters, supporting employees of Millionaireasia and her partners across Asia.
Embracing the United Nations Sustainable Development Goals (SDGs), my invited guests and I will be delivering training on sales (SDG 1 – no poverty) and mindfulness (SDG 3 – health and wellbeing), and providing free online and offline education in Singapore, Manila, Bangkok, Ho Chi Minh City and Hanoi (SDG 4 – quality education). In addition, Millionaireasia will be organising networking sessions for businesses and participants (SDG 17 – partnerships).
Since the launch of MsMA 2023, the competition has attracted significant interest from the region and we have over 600 contestants in our platform. We are extremely heartened and proud to be championing our cause – Empowering Women. In this light and the following reasons, we will be extending the deadline for registration:
Since April 2023, with the opening up of more borders, there is an increased interest in MsMA 2023 Competition from China, Japan and South Korea. We would like to welcome applicants from these countries to participate in the competition. Millionaireasia wants to bring the women empowerment movement into the 2nd and 3rd tier cities of the participating countries.
Millionaireasia wants to empower the participants by promoting them (with their permission) to our 40,000 databases. Participants will have the opportunity to be brand ambassadors (based on their submitted portrait photo) for Millionaireasia's business network, as well as casting as fashion models in the Fashion & Beyond Celebration (2-9 July 2023, Singapore) and also a movie to be produced by MsMA 2023 based on their 1-minute personality videos. Given this, we would like to provide participants with a sufficient time to prepare for brand ambassador, fashion model and movie casting opportunities.
Millionaireasia would like to provide free educational program (both Online and Offline) to empower our participants, by the renowned Sales Godzilla, Mr. Peter Tan on "Sales Methodologies & Millionaire Mindset" and "Mindfulness".
In addition, the success of MsMA2023 depends greatly on the participation of a sufficient number of contestants, in relation to clause 2.5 of Annex D in the Terms & Conditions.
In view of the above, the deadlines for the Registration Period, Quarter-Final, Semi-Final and Final to 21 July 2023, 21 August 2023, 9 October 2023 and 28 November 2023 respectively.
There are concerns about the content of the 1-minute personality video. Participants can now easily create the 1-minute video by following the process via https://www.millionaireasia.com/msma/tips-video-create/. Participants who are keen to compete for the Champion of MsMA 2023 can refer to https://www.millionaireasia.com/msma/developing-a-winning-strategy-for-msma-2023/ for the winning strategy.
The reference to web 3 influencer has caused too many confusions and concerns by the contestants. With immediate effect, we would also want to re-brand the competition as MsMA 2023 competition instead of MsMA 2023 web3 influencer competition.
Please refer to the latest version of the T&Cs which is appended to this letter and accessible via this link https://www.millionaireasia.com/msma/terms-and-conditions/msma-2023-competition/.
Should there be any questions or concerns, please feel free to contact us at msma@millionaireasia.com. We wish all participants a rewarding competition!
Peter Tan
Millionaireasia Pte Ltd
Chief Executive Officer (Asia Pacific)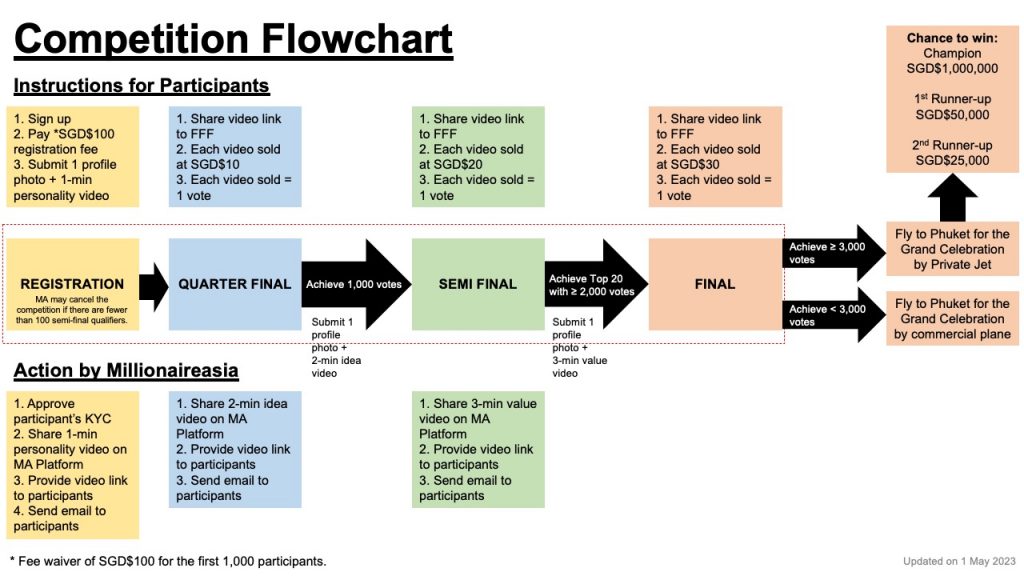 Aspiring to be a MsMA 2023 Contestant?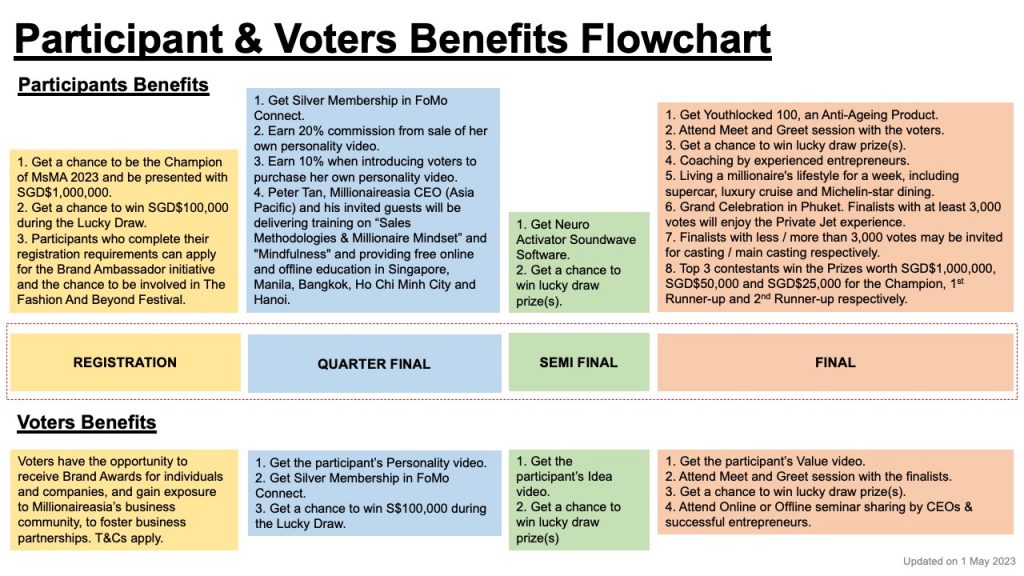 Vote for Contestants on our MA Platform!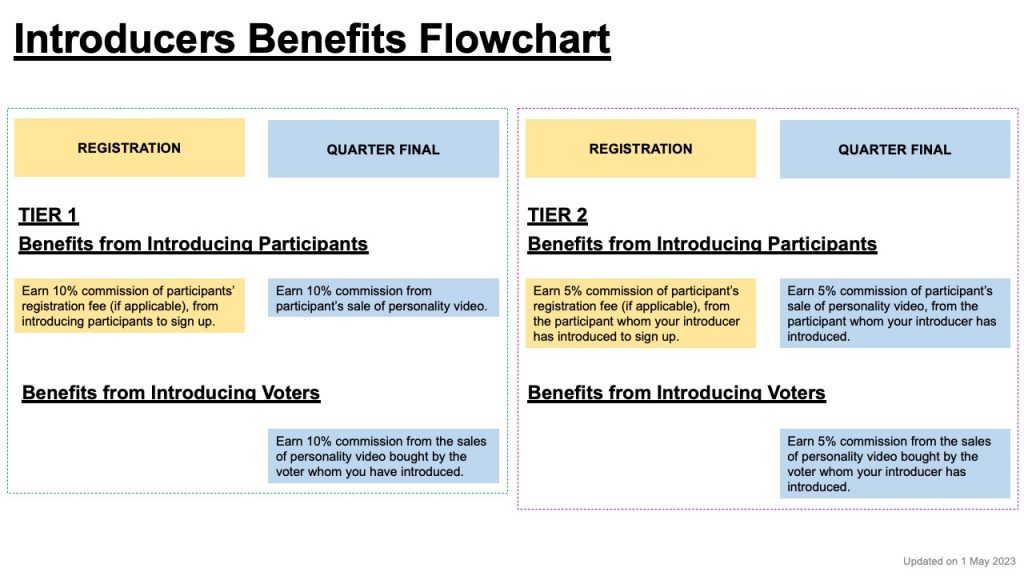 Sign Up an Account to Get Started Today!
How To Access Your Account
Jean Yip
With beginnings as a hairstylist understudy to Sylvia Kho, an established bridal hairstylist in the 1970s, Jean opened her first salon at Katong Plaza in 1982. Fast forward to today, Jean is the founder of the eponymous beauty and wellness company - the Jean Yip Group - that has grown to become an iconic name brand in Singapore.
Sharel Ho
Sharel, the managing director of DeFRED Jewellers, is constantly pushing the boundaries of DeFRED's creativity, design and craftsmanship to the highest echelon of the industry. And once she gets there, she will start all over again because she believes with all her heart that perfection can – and should – be improved on. It's the only way to grow.
Jane Tan
With 14 years of experience in the real estate industry, Jane became the Associate Deputy Group Director at OrangeTee & Tie in 2018, cementing her position as one of its top-performing agents. Despite having to constantly be involved with her 3 children, Jane also started a beauty aesthetics chain in 2019. Within 6 months, she won the Top SME 100 Award. Within the year, she clinched the Singapore Prestige Class Award.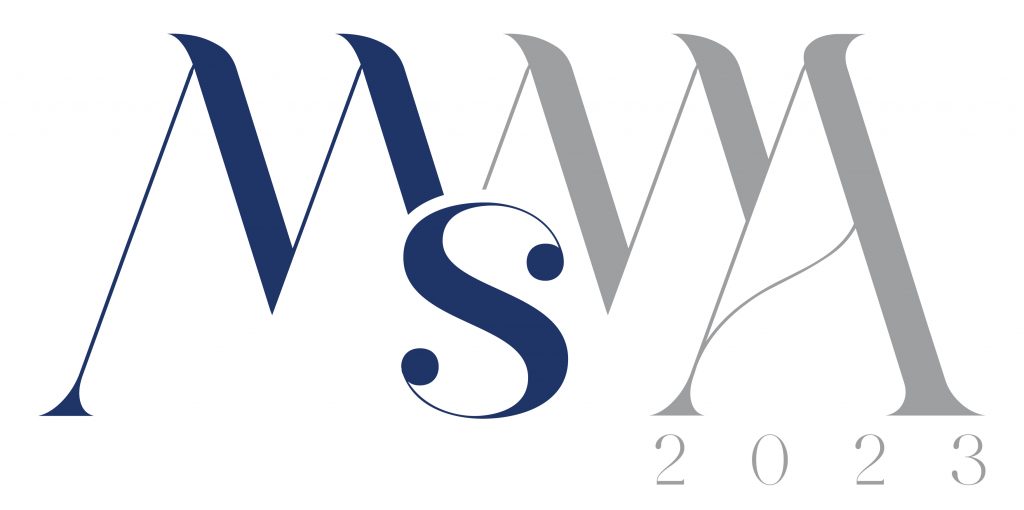 Message from CEO (Asia Pacific)
Empowering women is one belief, deeply rooted and shaped by my late mother. When I was appointed as the CEO (Asia Pacific) at Millionaireasia, I noted that more than 80% of the 40,000-strong database were male.
I feel that there is a need to raise awareness on women achievement and contribution by promoting more success stories of accomplished women in Asia. I am taking this passion for empowering women up a notch by launching MsMA 2023.
For more information, visit our website www.millionaireasia.com or reach out to our team via email at msma@millionaireasia.com