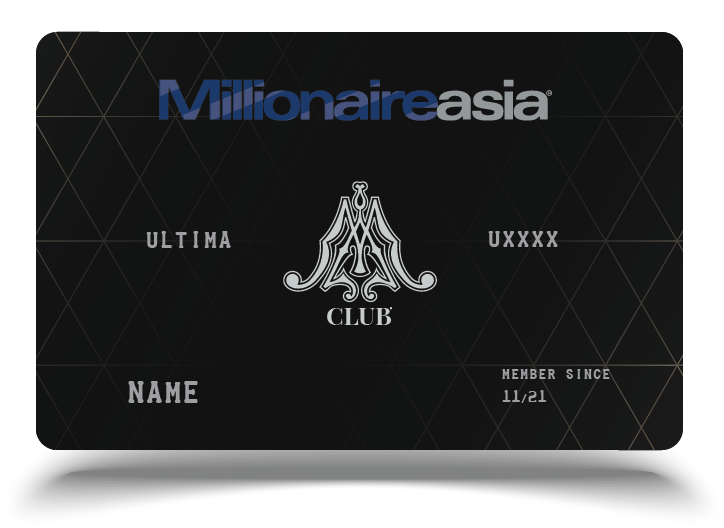 Ultima membership is strictly by invitation only. It is designed by millionaires, for millionaires with exquisite profiles and honorary educational program. Be served by our personal concierge to access the rich and famous in Asia, through power-packed meetings with entrepreneurs, who are part of our ELITE community. You will be profiled and featured in our Millionaireasia publication and ecosystem. Refine your established business by attending an array of our Master Classes.
Note: All prices are subject to prevailing GST (if applicable).
(Benefits are subject to change at the time of publication)
Lifetime

1. Welcome Gifts
$132,300
2. Private Access
3. Opportunities to Invest
4. Networking Sessions
5. Charities Involvement
6. Lifestyle Experiences
Total Worth
$132,300
Lifetime Total Worth: $132,300
1. Welcome Gifts
MA's planner, cup and pen worth $220.
Complimentary 1-year subscription to MA magazine worth $168.
Enjoy all benefits of the Affiliates Membership (MINI & FoMo) worth $888.
Exclusive invitation to BeautyGuru (BG) Inner Circle Members; loaded with 39,000 BG points worth $800.
One-time Complimentary Lesson on NFT worth $224.
8 pages advertorial in MA magazine worth $30,000.
(Choose one of the options) Enjoy the Privileges under Peter Tan Apprentice NFT worth $100,000, or Honorary Educational Program worth $100,000.
2. Private Access
Private dining events with Who's Who, celebrities, renowned personality or prominent individuals.
VVIP access to special events.
Exclusive luxury launches such as private jet, yacht, hyper cars, and jewellery etc.
Special lifestyle launches such as super cars, fashion, wine & whiskey, and watches etc.
3. Opportunities to Invest
Established entrepreneurs' exclusive business presentations.
Think-tank investment night.
Overseas Mission Trip for business collaborations and investments.
Venture's presentations for start-up and VC mentorship and investment opportunities.
4. Networking Sessions
Roundtable discussion on business opportunities with successful business people, ultra-high-net-worth individuals and members of the high society.
Monthly targeted networking sessions catered to your interests and preferences.
5. Charity Involvement
Participation in Philanthropy and Sustainability projects across Asia.
6. Lifetime Experiences
The key to living a fulfilled life is striking the right balance between business and leisure. Millionaireasia has worked with many partners to offer lifestyle experiences. For example, the opportunity to experience a Trial / Introductory Flight programme at a preferred membership rate. Participant will get to fly an actual aircraft.