Fund-raising Book Launch – Bringing Justice To The Heartlands
August 20, 2022 @ 2:30 pm

-

5:30 pm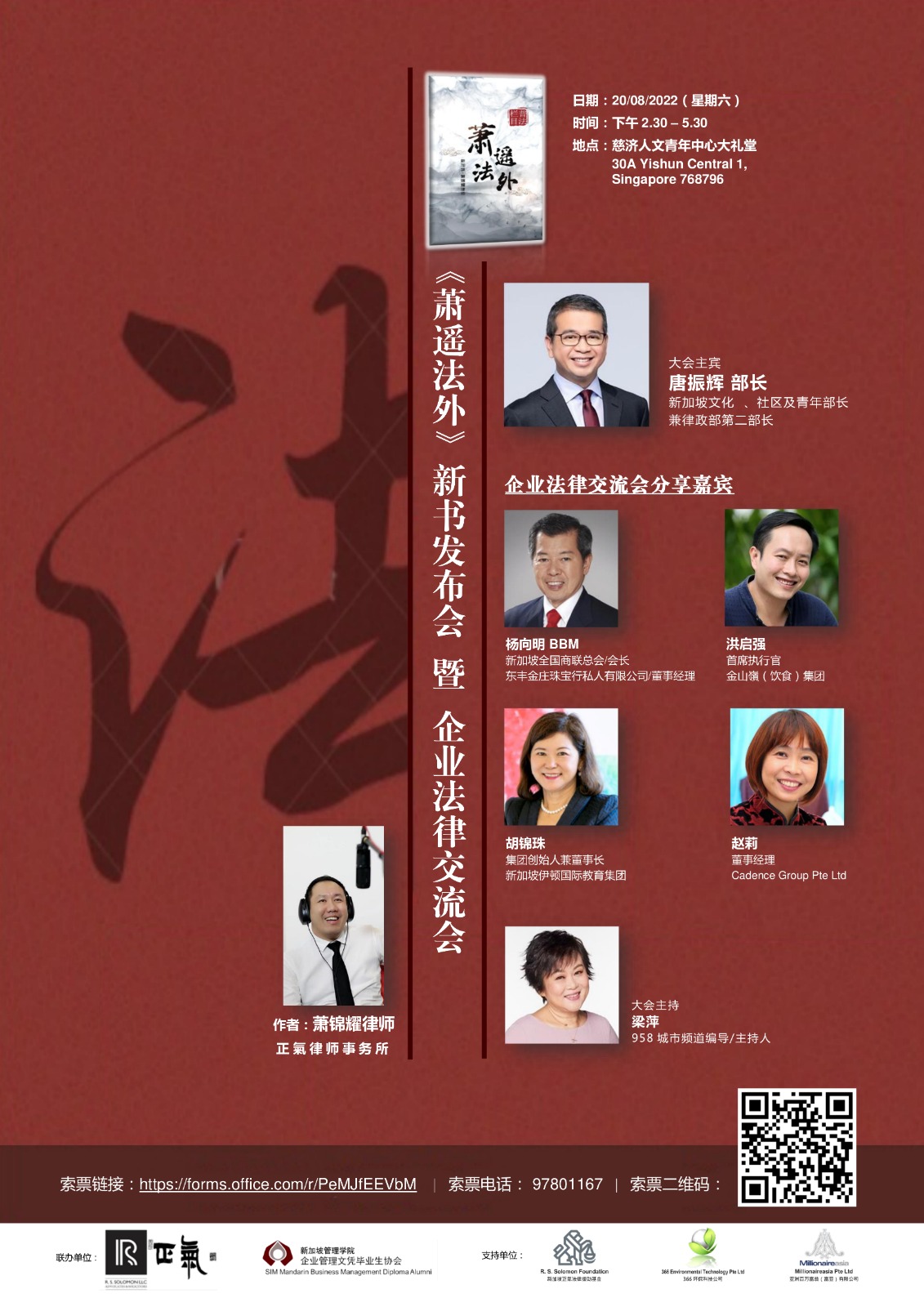 Clan and religious associations played a central role during Singapore's early days. Back then, migrants would leave their ancestral homelands to arrive in Singapore in search of better economic opportunities. These civic associations were instrumental in helping the newly arrived migrants to settle down in Singapore. Often, the associations were the only places they could turn to for help. It became vital to join clan associations for kinship and one's survival. However, as Singapore society becomes increasingly affluent, the appeal of these civic organisations among the younger generations dwindled.
Yet, these civic associations can still play a significant role in the communities as they did before, albeit with renewed missions. With this in mind, R. S. Solomon LLC (a Singapore law practice) in collaboration with the Law Society Pro Bono Services (LSPBS), SUSS Law School and certain clan and religious associations are spearheading an initiative to provide last mile community-based legal assistance to the most vulnerable in the community through the establishment of Community Legal Services Centres in all 5 Community Development Council (CDCs) districts.
These Centres will be housed in the clan and/or religious associations in the heartlands. They will handle community-related matters and be helmed by community-minded lawyers. The partnering clan associations and/or temples will host the Centres on their premises and provide half the operating costs. The remaining funds will come from the Government.
To help raise funds and awareness for the initiative, Richard Siaw, the Managing Director of R. S. Solomon LLC has written a Chinese book titled "萧遥法外" (the title is a pun using his surname and Chinese idiom 逍遥法外, which means getting away scot-free). The book is a collection of short stories explaining the legal concept behind actual Singapore legal cases spanning criminal, family, civil and corporate law. The book was written in a lighthearted way using folklore and anecdotes to educate laypersons, specifically the Chinese-speaking population, who may otherwise find it difficult to understand the legal concepts or issues.
Richard hopes that the book will promote better law awareness and help the public at large to avoid getting themselves embroiled in legal troubles to stay "法外逍遥"(free of legal woes). He will be launching the book on 20th August 2022, at 2.30 p.m. at Tzu Chi Humanistic Youth Centre, 30A Yishun Central 1, Singapore 768796. Mr. Edwin Tong, Minister for Culture, Community and Youth and Second Minister for Law who wrote the Preface for the book will be the Guest-of-Honour.
All proceeds from the sale will be channelled to fund the Community Legal Services Centres project.
For events terms and conditions, please click here.