By Justin Harper
From creating art on her laptop at school to selling funky handmade rocking chairs that sell for more than US$25,000, Nezza Tilani represents a new breed of artist. Not only is she creating sculptures that are in hot demand, but she is also looking at how blockchain technology can help her monetise her passion.
Non-fungible tokens (NFTs) have taken the art world by storm. Basically they are unique blockchain files that can verify ownership of digital art. A buyer of an NFT normally gets the rights to display the digital artwork while the NFT supporting it is an asset they may resell later at a profit. While NFTs have existed for almost a decade, the technology really took off this year. In March an NFT created by digital artist Beeple sold for US$69 million at Christie's.
For artists like Singapore-born Nezza, an NFT gives her something that can't be copied. Even if an artist sells the NFT, they can still retain the copyright and reproduction rights. NFTs also have a feature that enables the original artist to be paid a percentage every time the NFT is sold or changes hands. While they may have grabbed the headlines for their record-breaking prices, for less well-known artists NFTs can be very useful.
"One of the great things about NFTs are the transparency over pricing. When I put my work in a gallery, I don't always know the price a buyer has paid for it. It's not first-hand experience. NFTs show how much someone paid for it, the interest and demand for it. It also opens up a whole new world of possibilities. I can sell my art in so many other countries. It's part of globalisation," Nezza said.
Big Dreams
Despite her strong passion, Nezza didn't actually study art in college. She said, "It's pretty funny because I studied accounting and finance instead. I thought this was important for me if I wanted to start my own business. I need to know what I'm doing. Art was always something I never really needed to think about. It always comes to me naturally. But accounting was always something I had to practice."
Since developing her skills from her school days, she has dabbled with physical art, digital art and now sculptures, in the form of highly-collectible and unique rocking chairs. Talking about what inspires her artwork, Nezza said: "A lot of the ideas I get are from my dreams, from the people I meet in my dreams. It sounds a little bit crazy I know but I wanted to bring my dreams to life."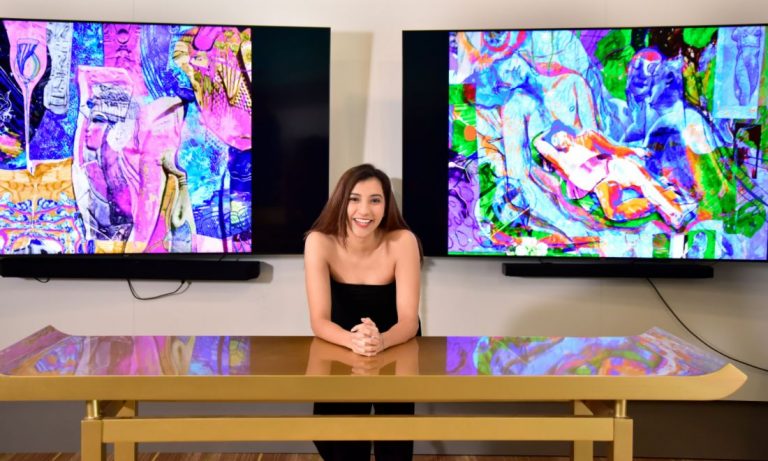 Rocking Chairs
In fact, her dreams have provided a rich supply of inspiration during her career. "I had a dream recently about a man who was pregnant and I thought it would make a really good art work. It symbolises a lot of things going on in the world about gender equality."
And where did the idea of making art-based rocking chairs come from? "My brother wanted a piece of my art to furnish his new apartment. But rather than make a painting to hang on the wall I wanted to do something different for him. It was purely a coincidence." After so many party guests asked about the rocking chair, Nezza decided to start making more. Now she's sold more than 100 and business is booming.
The sculptures, as she refers to them, are handmade from start to finish. Each individual chair is hand painted before it is covered by a digitalised collage is that reproduced on embossed velvet that is laminated to protect the artwork.
Giving Back
A philanthropist at heart, for each rocking chair Nezza sells, 20% of the sale goes to the education of a Filipino child in Angeles City, where her sculptures are made. "It's known for sex tourism and a lot of the children are fatherless. But the children are so nice and full of hope. They teach me so much – about patience, kindness, to forgive and forget and for hope. I was really inspired by that and wanted to give something back."
"Not only does the money go towards their education, but the child is put in contact with the donator who can see the smile on the child's face and the impact they have made. As Nezza explained, it's a win-win for everyone.
Issue: SG 57 MY 46 2021