By Dhiya Bisyarah
Omakase informally means ''no menu'' in Japanese. In other words, the fate of your meals lies in the hands of the chef. Diners do not get to choose ingredients nor are they aware of what is the next dish. While there is a fear in the unknown, there is also a sense of serendipity that awaits.
Rakuya does their service differently from other Omakases in Singapore, primarily because of their approachable and relaxed setting. Their menus change seasonally to accommodate premium ingredients air-flown from Japan.
Fun-filled and casual, yet premium and high-quality, the quaint joint along Katong Road goes against the grain with an Omakase experience they unapologetically call their own.
Their décor is tasteful too. Look out for dark wooden accents, a masculine interior, Japanese trinkets and recycled elaborate bottle labels pasted on the ceiling. A taste of Japan is peppered in every nook and cranny. As patrons wait for the reopening of Japan's VTL, a trip to Rakuya might be the next best thing to fill the void.
1. Appetiser
The first of a seven-course meal, their appetiser starts off light with flavours from the sea. Clean and fresh, these include sweet shrimp, female crab roe, crab miso and oysters hailed from the Miya prefecture. 
The sweet shrimp comes atop a seaweed tempura, sturdy enough to hold without breaking its shape. It is recommended to eat it the same way as toast, biting off bit by bit, making sure each morsel of shrimp is savoured.
Oysters were plump and extra creamy from the dollop of uni while pops of Ikura add exciting texture. Diners are more than welcome to slurp it all in one shot.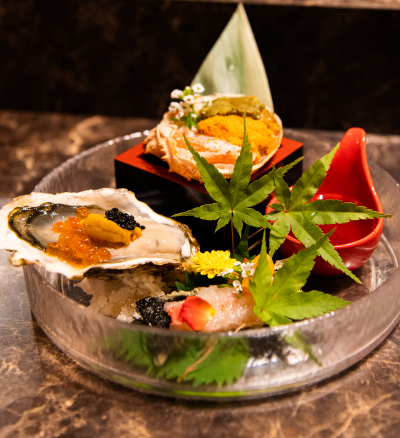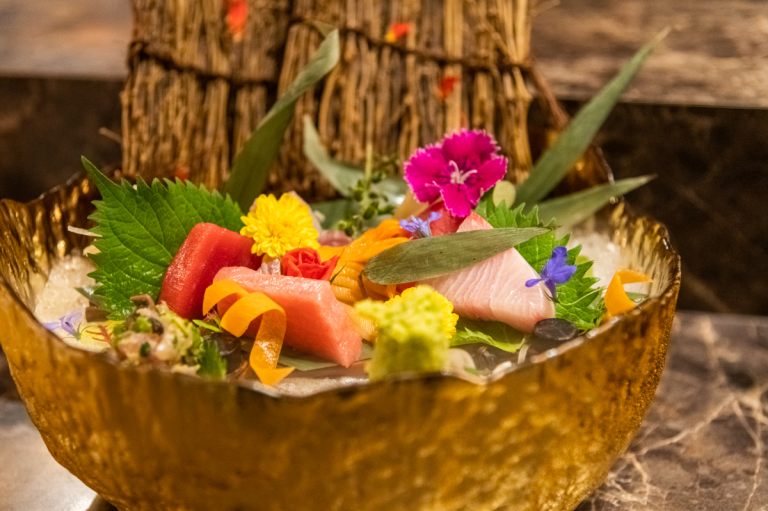 2. Assorted Sashimi
A feast for the eyes, Rakuya's assorted sashimi is a rainbow of meticulously sliced fish. Accompanied with mini-sized Hogaki branches that reflect traditional Japanese life, diners can immerse in a truly oriental and authentic experience.
The dish presents a host of fish types and cuts laid on a dry ice bed to maintain optimal freshness. This includes lean tuna, fatty tuna, flounder, sea bream, medium fatty tuna, yellowtail and horse mackerel. Start from the lighter-coloured fish, then proceed to the darker ones. 
Finish off with the fatty tuna, followed by horse mackerel with shreds of flavoured ginger.
3. Chawanmushi
An elevated take on a simple Chawanmushi, Rakuya's version is not only comforting and silky, but layered.
It is a smooth Japanese egg custard infused with rich sea urchin sauce, topped with snow crab, salmon roll, foie gras and minced truffle.
Despite premium and rich ingredients, every Chawanmushi is light and balanced. Diners can enjoy it to the last bite without any cloying sweetness or flavours.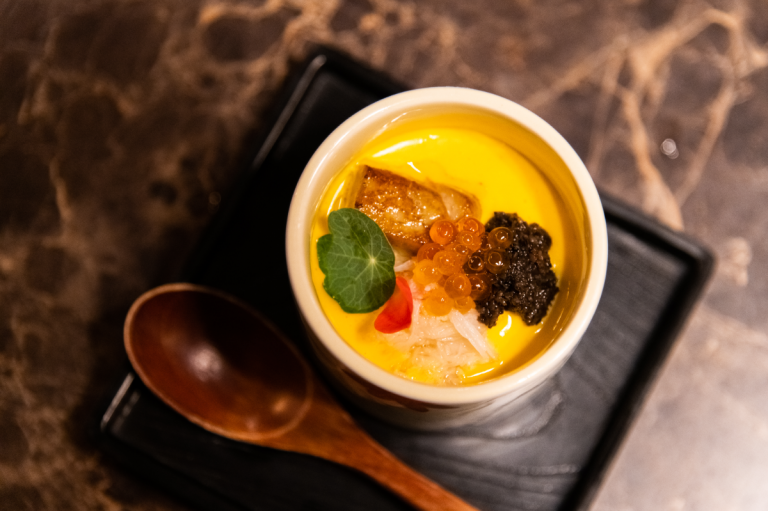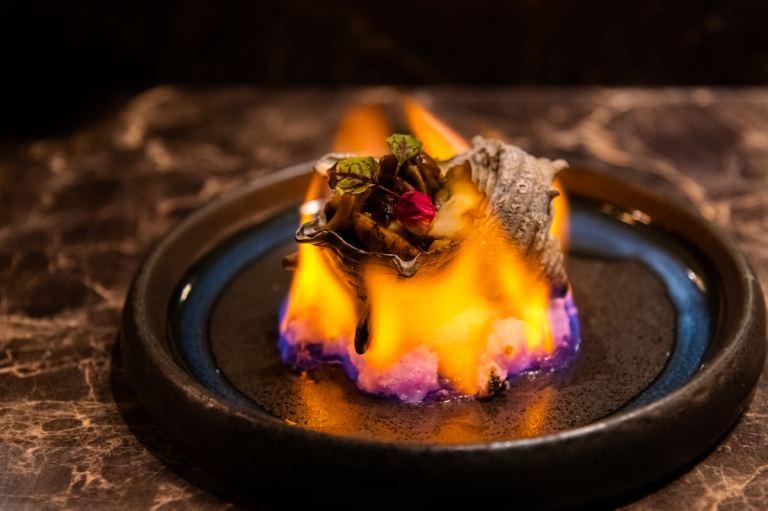 5. Whelk And Glass Noodles
Chef Kenji, added upon presenting this dish: "You can tell us what you don't eat, and we can substitute it with other things. It's very fluid.''
Whelk, a species of shellfish, is known for its hints of bitterness. But this dish was a pleasant surprise.
Visually, the plate was presented with mini fires ablaze, heating up the whelk and turning the salt bed a nice shade of purple. 
The whelk was cut into small, mini bites for easier chew and digestion. Diners who are not familiar with whelk can appreciate the subtle flavours and texture. Glass noodles within the whelk absorb remnants of the sauce – a nice change in tide from chewing to slurping the noodles until the last drop.
5. Grilled Lobster With Miso Butter
The fifth dish introduces a generous portion of grilled lobster spread with luscious miso butter.
Thoughtfully, the chefs have already carved out the large meat so diners can dig in immediately. Every bite was sublime. The lobster was fresh, sweet and chunky making every mouthful incredibly sinful.
Grilled and seasoned vegetables such as corn and bell peppers accompany the dish for more crunch too.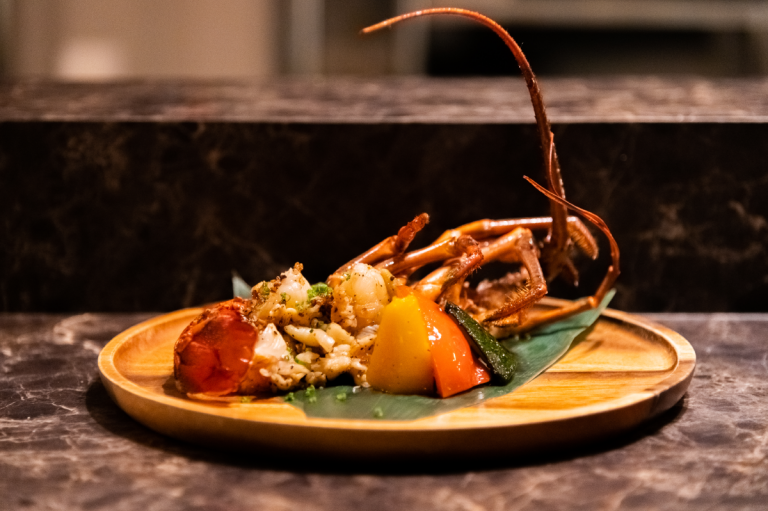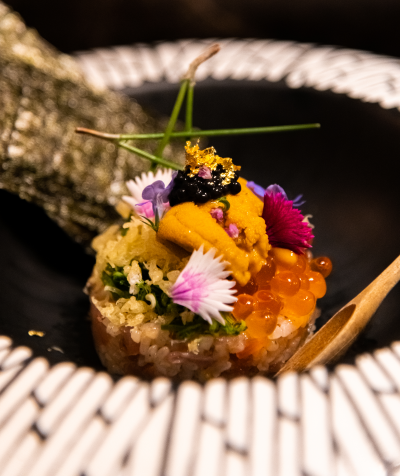 6. Mixed Rice And Herbal Soup
A staple in Japanese and Asian cuisine, it is with good reason this elaborate dish is part of the gastronomic octet. 
The highest quality of Japanese rice is mixed with chopped tuna belly, tempura crumbs, smoked caviar and edible flowers. Sea urchin is topped for a creamier bite.
The best way to eat this dish is to mix all ingredients equally together. Then, wrap with the seaweed that is served alongside the dish. Only premium-grade seaweed is used so that it does not break easily when wrapped.
Wash down with a bowl of clear, herbal soup to keep warm before indulging in their tender Japanese orient clam. Refreshing and not overpowering, the soup clears the palette,
strategically so, to make way for dessert.
7. Dessert
The Omakase experience finishes off with a clean and simple assortment of desserts. 
This dish includes fresh melon, black sesame rice cake and a red bean mochi wrapped in fragrant pandan leaf.
Melon was soft and sweet with every bite; black sesame rice cake was satisfyingly chewy; and the red bean mochi was glossy and nutty.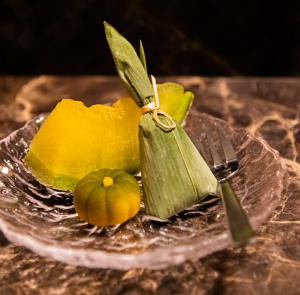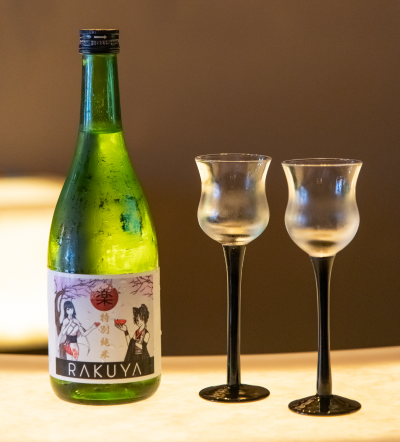 8. Sake
It is not the full Omakase experience without seasonal sake. In fact, Rakuya produces their own version, affectionately labelled after the same name. 
"Our in-house sake is floral and fruity, clean and crisp. This has a sharp finish,'' mentioned Rakuya's founder, Li Fen. 
The sake label was inspired by their identity as a restaurant —carefree, interactive and authentic. They also serve it in unique and carefully sourced cups from around the world. Diners can choose to drink their sake among a multitude of precious cups
and bowls.
For Rakuya, the entire sake and omakase experience should be comfortable and personable on every level.