By Alfieyah Abdullah
Take reunion dinners to a new level with luxurious spreads and premium ingredients.
The year already seems to be flying past. Just as we wrapped up end-of-year festivities, Chinese New Year greets us once again. Complete the mood with our favourite picks of reunion dinner options, sweet treats, and gifts for loved ones.
1. Regent Singapore
For an extravagant experience, one Michelin-starred Summer Palace has curated a menu in line with this year's zodiac. The highlight of the restaurant is its Grand Dynasty Menu priced at a prosperous S$8,888++. The menu showcases its most premium ingredients, and is personally hosted by Chinese executive chef Liu Ching Hai in the restaurant's intimate Pearl private room.
This nine-course menu is paired with a 30-year aged Pu Er Tea. Amongst the highlights are cordyceps priced upwards of S$5,000 for 100g, and Grade 5A Bird's Nest. The featured dishes include Sashimi-Grade Alaskan Geoduck and Ikura Caviar Prosperity Toss, Double Boiled Treasures Soup with Cordyceps Sinensis, and Braised Superior Dried Abalone with Sea Cucumber and Supreme Oyster Sauce.
Set menus are also available at S$118++ per person to S$1,288++ for five. These set menus are perfect for business lunches, and include Lunar New Year staples such as Pen Cai and Braised South African Abalone with Supreme Oyster Sauce.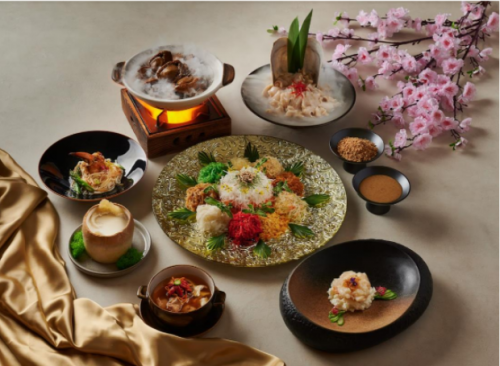 2. Ce La Vi
From 10 January to 6 February 2022, Ce La Vi will be home to a decadent Lunar New Year six-course set dinner menu. The contemporary Asian menu ranges from S$398++ for two and is aptly themed around the essence of highly valued Chinese traditions.
The feast starts off with the quintessential yu sheng. Fresh strips of salmon and generous helpings of peanut and sesame dressed with a sweet and sour plum sauce are finished off with lotus chips. Following that, the Hokkaido Scallop Ceviche and Clam with Baeri Oscietra Caviar, seasoned with a yuzu koshu, represents longevity. Luck comes in the form of a Coconut Saffron Mussel Cappucino is cooked with fragrant coriander, chilli, and calamansi, whilst fleshy grilled king prawns marinated in togarashi spice, drizzled with curry leaf oil adds a dash of harmony.
The meat course represents wealth and abundance: tender A5 Kagoshima Wagyu Beef, asparagus and truffle in a Kampot pepper sauce. Finally, it is only fitting to finish off the decadent meal with a Jasmine tea cremeux, orange pineapple marinade marmalade, and biscuit sponge. An add-on of Black Winter Truffle (S$50/5g) and ala-carte yu sheng is also available.
Pre-order your dinners three days in advance, and take your celebrations to the sky.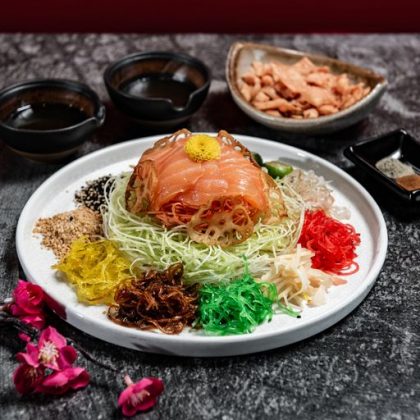 3. Peach Blossoms, Park Royal Collection Marina Bay
At Peach Blossoms, diners can look forward to set menus specially designed by executive chinese Chef Edward Chong and his culinary team. The Harvest set menu (S$288++ per person, minimum of two to dine) is a six-course dining experience. The feast starts off with a refreshing Prosperity Geoduck Yu Sheng with Amaebi, Fish Roe and Organic Mixed Fruit, followed by a medley of auspicious dishes. These include the deeply flavoured Double-Boiled Cordycep Flower Soup with Crab Claw, Wild Mushroom, Sea Whelk, Canpoy and Imperial Fish Maw. To end the meal on a high, enjoy the restaurant's Lantern Puff Pastry, Double-boiled Bird's Nest with Cream of Almond, Japanese Purple Sweet Potato and Almond Slices.
The restaurant also offers take-home sets: Reunion Sets (S$288++), Prosperity Yu Sheng (from S$68++) available in portions for five to ten persons, and Premium Treasure Pots (S$488++) 'pencai' which includes '10-head' Abalone, Roast Duck, Braised Pork Trotter, and a selection of premium seafood in a delicious one-pot braise. A vegetarian version is also available for S$308++. Other tasty morsels include Nian Gao (from S$38++) and Radish Cake with Hokkaido Premium Dried Scallop and Trio Prawn (S$78++).
The menu is available from 15 January to 16 February 2022.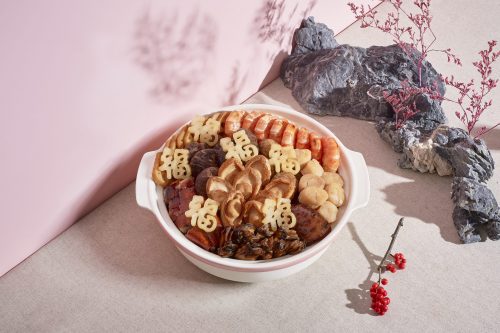 4. Raffles Hotel Singapore
Bountiful blessings are upon us with Raffles Hotel's Lunar New Year dining offerings. Dine at 'yi' by Master Chef Jereme Leung to enjoy Chinese delicacies galore. Look forward to time-honoured specialities such as Steamed Spotted Garoupa and Fresh Lily Bulbs with "Mao Er Duo" Black Fungus, Steamed Jasmine Rice with Chinese Goose Liver Sausages and Preserved Meats, as well as Cantonese Sponge Cake infused with Dried Tangerine Peel.
A variety of yu sheng platters are also available, each consisting of an auspicious selection of ingredients brought together by a specially crafted Yunnan Rose dressing. Choose from the Fortune Yu Sheng with Salmon Sashimi and Crispy Silver Bait Fish (S$168++), Longevity Yu Sheng with Arctic Shellfish and Japanese Sweet Shrimps (S$198++), Prosperity Yu Sheng with Tuna Sashimi, Spanish Iberico Ham and Honey Melon (S$208++), and a Vegetarian Yu Sheng with Crispy Cordyceps Flower and Fresh Mango (S$168++). Each platter serves eight to ten guests and require a minimum of two days advance notice.
Homebodies can also take comfort in the hotel's Auspicious Home Dining Sets. Indulge in Organic Eggplant with Japanese Sea Urchin in Vinegar Dressing, Steamed Cod Fish with Spring Onion, Ginger and Brown Bean Paste. There is also the much-cherished Prosperity Seafood Treasure Pot, packed full of '10-head' abalones, scallops, dried oysters, and other delicacies that have been carefully simmered to perfection. Diners can choose between the Decadent Set (S$888+ for eight persons) or the Bountiful Trio Set (S$288+).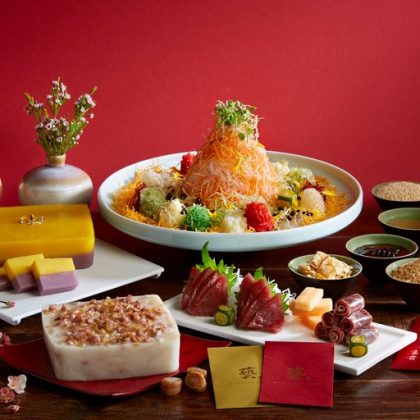 5. Crystal Jade Palace
This stalwart brand is no stranger to fans of well-executed Chinese fare. The restaurants' 2022 Lunar New Year lineup spans exquisite dishes conceptualised by group executive chef Martin Foo and his team of chefs. At Crystal Jade Palace, Takashimaya, the flagship restaurant continues to offer Cantonese classics alongside its new inventive offerings.
Tuck into nourishing bowls of Double-boiled Australian Abalone with Chuan Bei and Walnut, Braised Superior Bird's Nest with Crab Meat and Roe, as well as seafood dishes such as Steamed Glutinous Rice with 'An Xin' Chicken Topped with Ginger Scallion Sauce and Sauteed Chinese Lettuce and Assorted Capsicum with Bamboo Clam. There's also a surf-and-turf option of Pan-fried Sea Cucumber Stuffed With Kurobuta Pork, Black Moss with Chinese 'iron yam' and Scallion.
The extensive range of set menus at Crystal Jade Palace are priced between S$138++ to S$198++ per person (minimum of two diners) and from S$638++ for five persons. Vegetarians can also enjoy a vegetarian set menu priced at S$108++ per person.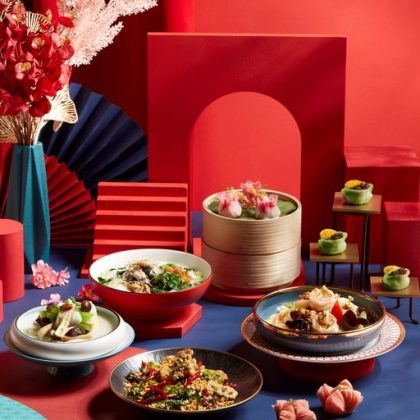 6. Shisen Hanten by Chen Kentaro
This Michelin-awarded Chinese restaurant offers eight themed set menus for Lunar New Year. Choose from the Opulence Menu (S$128.80++ per person), Fortune Menu (S$148.80++ per person), Triumphant Menu (S$168.80++ per person), Splendour Menu (S$258.80++ per person), and Majestic Menu (S$298.80++ per person) with a minimum of five diners.
Diners can enjoy traditional Chinese delicacies which include Double-boiled Fresh Chinese Yam with Baby Abalone, Dried Scallop and Red Date in Chicken Consomme and Sauteed Tiger Prawn in Superior Garlic Soya Sauce. Those looking for more opulent dishes can indulge in a Fortune Suckling Pig Combination which consists of a Sliced Suckling Pig, Poached Tiger Stripes Minced Pork Dumpling, Chilled Sliced Pork Knuckle, Roasted Duck, and Hua Tiao Drunken Chicken.
For a more intimate dining experience, choose from the Prosperity Menu (S$138.80++ per person), Divine Menu (S$188.80++ per person) Peace Menu (S$388.80++ per person). For said menus, a minimum of two diners is required. Braised Australian 'Two-head' Whole Abalone with Premium Sea Cucumber stuffed with Shrimp Paste in Oyster Sauce, and a Double-boiled Eight Treasures Soup with Hashima accompanied with Crispy Purple Sweet Potato and Yam Nian Gao are among the dishes available within these menus.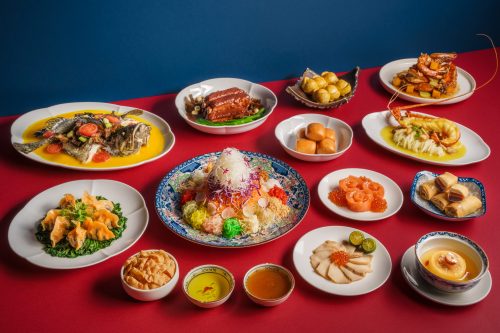 7. Yan Restaurant
To truly understand Cantonese cuisine, diners will head to Yan. The restaurant offers familiar flavours to ensure diners get both a gratifying meal and visual feast. This Lunar New Year, Yan is offering a takeaway Yan Harvest Pen Cai (S$325++ for five persons and S$650++ for ten persons). The meal includes 'six-head' whole abalone, sea cucumber, live prawns, whole conpoy, collagen-rich pork tendons, king grouper fillet, and scallops among other assortments.
Yan's dine-in option is the Fortune Feast, a five-course menu (S$150++ per person, minimum two to five persons) which includes a quintessential Prosperity Salmon Lo Hei, Steamed Cod Fillet with Preserved Lemon Peel Sauce, and a Roasted Duck Marinated with Mandarin Peel and 'Mee Pok' Noodles. For five to eight persons, the Bountiful Blessings Menu (S$168++ per person), Reunion of Abundance Menu (S$188++ per person), and Prosperity Delights Menu (S$268++ per person) will satiate you through eight courses.
Exclusively for dine-in only, Yan's signature savoury Abalone and Salmon with Gold Foil Lo Hei in 'Shun De' Style (from S$92++) is something diners can look forward to. It features a mountain of crispy vermicelli decorated with a vibrant garland of vegetables, fresh slices of salmon, and braised abalone for a year of abundance.
To wash down your meal, try Yan's Eight Treasures Tea (50g loose-leaf; S$22), specially blended for the occasion with flowers, herbs, and teas such as safflower petals, red rose petals, mango flakes, goji berries, and white and green teas.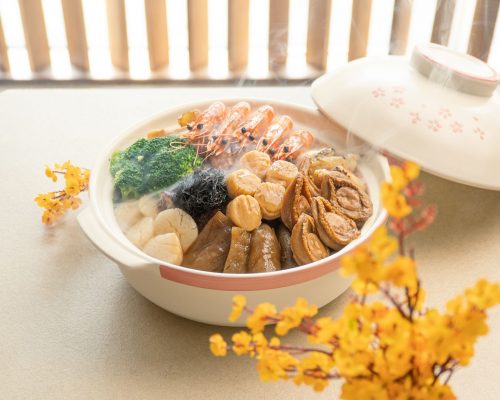 8. Goodwood Park Hotel
Goodwood Park Hotel is delivering a roaring start to the year of the tiger with its extensive range of Lunar New Year dining offerings. Uniquely created Lunar New Year goodies such as the Mao Shan Wang Tiger Swiss Roll (S$133), Golden Fortune Bucket (S$138) and Tiger Gateau (S$98) are newly added decadent creations that are bound to be the centre of attention at any celebration.
Min Jiang at Goodwood Park is delivering flavourful savouries this season as well with three feasting specials. These include Braised Boneless Pork Knuckle with Abalone Gold Bags in Pot (S$368++ for six persons) made up of Australian pork knuckle that has been braised for three hours until fall-off-the-bone tender, 'golden bags' of Inari beancurd brimming with a whole abalone, oyster, and minced chicken.
There is also a Braised Spring Chicken with Iberico Pork Rolls and Abalone in Pot (S$338++ for six persons) with traditional goose web, deep-fried and braised with chicken, Chinese 'Jinhua' ham, ginger and spring onions, and a Double-boiled Seafood Soup with Abalone and Handmade Black Moss Meatballs in Claypot (S$288++ for six). The comforting dish features high-end ingredients such as Australian 'ten-head' abalone, fried eel fish maw, deep-fried fresh grouper slices, fresh tiger prawns as well as steamed then deep-fried Handmade Black Moss Meatballs with Pork and Turnip.
Min Jiang at Dempsey offers two different feasting specials: Braised Pork Belly, Sea Treasures and Baked Whole Chicken in a Pot (S$388++ for six persons), and a Double-boiled Chicken Soup with Abalone and Matsutake Mushrooms in Claypot (S$238++).
Both locations have two lo hei''s for diners to choose from: Trio of Prosperity Blessings 'Lo Hei' (S$238++) and Auspicious Abundance 'Lo Hei' (S$228++) to kickstart their meal with good wishes for the upcoming year.
For families looking to dine-in to a proper meal, Goodwood Park Hotel offers an Eight Prosperity Reunion Dinner Menu at their Windsor Ballroom (S$168++ per person). The eight-course menu features gourmet classics and festive specials prepared by Min Jiang which include the Roasted Silver Hill Irish Duck and Braised 'Six-head' Abalone with Sea Cucumber in Seasonal Greens.
This year, the hotel's restaurant has introduced a first: Sweet Abundance Tier Set (takeaway or delivery at S$98 per set). Those with a sweet tooth can delight in eight pairs of bite-sized entremets intricately crafted into auspicious icons of different colours, shapes, and designs. This statement piece also resembles a Chinese-style display cabinet and will be a statement piece for any convivial gatherings.
Finish off the meal with selections from the set: Pineapple Ingot Tart, Mango Pomelo Roll, and Lychee Crumble Tartlet, to name a few.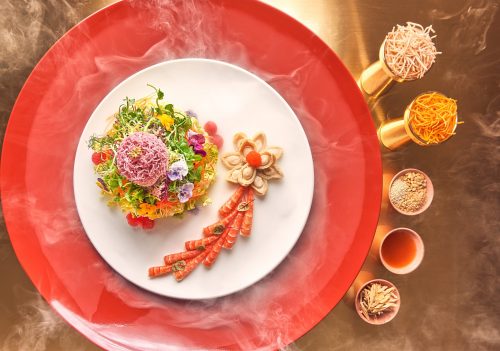 9. Zafferano
In celebration of new beginnings, Zafferano is offering a lavish champagne brunch (from S118++ per person) on 29 and 30 January 2022. Those looking for an alternative celebratory Lunar New Year dining experience can enjoy contemporary Italian fare, served sharing style at the table. The special festive edition menu features tiger prawns, spanner crab, and fish to herald a year of good fortune.
A refreshing Tuna Carpaccio with Pomelo and Avruga Caviar is a welcome start to the menu. It is followed by a pasta dish of Trofie with Spanner Crab, accentuated with notes of chilli and lime. Asian-inspired flavours make their way to the menu with a Honey-Glazed Duck Breast, finished with black pepper jus, or a fish option of Roasted Cod with Garlic Scapes, Galangal and Soy Sauce. Finish the meal traditionally with a light assortment of fruits and desserts.
Nothing is more celebratory than free flow of alcohol and other assorted drinks (S$118++ per person) or a free flow of champagne and other wines (S$158++ per person).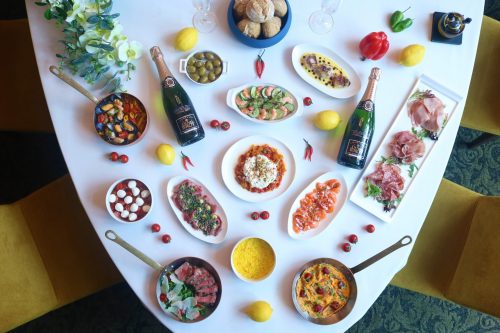 10. Mott 32
Impress loved ones with Mott 32's lavish eight-course Prosperity Chinese New Year set menu, available for both lunch and dinner from 24 January to 15 February 2022. At S$188++ per person (minimum of four persons), indulge in an abundance of premium ingredients and fresh ocean catch.
The Smoked Salmon Yu Sheng is a light introduction to the meal. Following that, relish the Deluxe BBQ Platter which boasts a trio of delectable meats: crispy roasted pork belly, marinated jellyfish and cucumber, and an applewood roasted 42-days Peking duck roll "signature Mott 32 cut". Wash the rich meats down with a nourishing Double Boiled Abalone and Chicken Soup with Matsuke Mushrooms and Bamboo Pith, before the indulgent Braised Boston Lobster with Lemon Butter Sauce.
For traditionalists, other menu highlights include steamed garoupa fillet with a side of traditional fragrant glutinous rice, Japanese dried shrimp, crispy taro, and preserved sausage. End the meal with a serving of Mott 32's signature Homemade Sweetened Red Bean Soup with Aged Tangerine Peel, Glutinous Rice Dumpling filled with Black Sesame.
To properly ring in the Lunar New Year, toast with the limited-time golden-hued 'Pineapple Tart' cocktail (S$26+), a blend of butter washed Remy Martin VSOP, yuzu sake, fresh pineapple juice, condensed milk, and a squeeze of fresh lemon juice.