By Justin Harper
Warren Buffett is one of the world's most successful investors and has amassed a fortune of more than US$100 billion. One fan paid more than US$4.5 million just to have lunch with the legendary investor, nicknamed the Sage of Omaha.
Although this figure may be out of some people's price range, a seat with his former daughter-in-law Mary could be the next best thing.
Mary is a multi-talented woman. A best-selling author of multiple investment books, an international speaker, entrepreneur, and also a political and environmental activist.
Her first book Buffettology, co-written with David Clark, was an immediate New York Times best-seller. In fact, all of Mary's books on Warren Buffett's investing methodology have been best-sellers.
Now in his 90s, Warren is still at the helm of Berkshire Hathaway, the NYSE-listed conglomerate that owns a string of companies and is known for taking long-term bets on undervalued firms.
Mary's direct access to the Buffett family lasted for more than a decade. She was married to Warren Buffett's youngest son Peter for 12 years before they divorced in 1993.
Invest In What You Know
Full of advice, Mary has plenty of tips for beginner investors to get started. "You should be investing in things you understand. In other words, if you are working at a pharmacy, you would know which medication is most popular or that is being sold the most.
The same thing goes for starting to invest." 
She gave an example of looking around your house to find specific items you use on a regular basis like soap, bleach and paper products.
"When I moved several years ago I realised we were using WD40(a common lubricant) so I started looking up the stock. It's been too expensive, but a very interesting company that has done quite well over many years."
In fact, she has lots of practical tips for finding companies to invest in, such as visiting supermarkets and convenience stores like 7-Eleven.
"Ask yourself 'what must this owner carry in order to be in business?' They must carry Coke, Pepsi and many other products that you can then look up."
She also makes sure she reads as much news as possible as there are always stories about new products being launched.
Mary also keeps a close eye on companies that have been around for a long time. "A good example would be financial institutions such as banks. One of Warren's largest holdings is Bank of America," she added.
While there is plenty of buzz around new energy, sustainability and green start-up ventures, Mary likes to focus on industry incumbents.
"I am very interested in old traditional companies that must now get in the green zone. That really covers everything from cars to banking and of course technology companies in particular, like Apple."
Buffettology
Mary Buffett owns the Buffettology trademark alongside co-author David Clark, who was an early shareholder in Berkshire Hathaway.
Buffettology follows the investment principles of Warren, gleaned from Mary's personal experiences with her then father-in-law, along with his writings and explanations of holdings in the Berkshire Hathaway annual reports.
Many investors and some fund managers have adopted her Buffettology methods. 
"Over the years I have met people who started using the Buffettology method when I first started doing seminars years ago. I have met so many families that have made an enormous amount of money using our techniques."
"It's difficult to stick to the dogma, but if you do, over time investors seem to do very well. Of course this makes me extremely happy and fulfils the power of value investing over a long period of time," she said.
Taking a step back, Mary believes it is important to understand investment terminology before you start thinking about becoming the next Warren Buffett.
"I always tell any audience or a first-time investor that there really is a language to investing. Whether that means P/E ratios, understanding earnings, debt etc."
"You should be investing in things you understand. In other words, if you are working at a pharmacy, you would know which medication is most popular or that is being sold the most. The same thing goes for starting to invest."
Back To School
Mary set up a business school which hosts regular seminars for students to ask her questions. The courses teach students to evaluate stocks and help companies grow into a firm that investors will want to put their money in.
Her Buffett Online School now has more than 5,000 students all over the world, including Singapore, Japan, Hong Kong, China, Vietnam, Malaysia, Australia and the UK.
Next year it has plans to expand into Indonesia. But the Covid-19 pandemic has stopped Mary visiting Asia, where she typically spent several months a year.
"I loved being there, but even then I couldn't get to as many people as I wanted to. My partner in Singapore Sean Seah and I have been involved for over 10 years. We decided to open a business school that addresses the business practices of value investing and our own investments using these principles. It's been several years now and we are extremely thrilled with the response."
The Buffett Online School provides in-depth stock reports to students who "love the monthly webinar with myself and Sean, so that they can learn directly from us how to invest safely and profitably."
Mary has a passion for education. Along with her background in investing, she has worked in a wide range of businesses and been a consultant to a number of Fortune500 companies including AOL Time Warner.
She has also taught business and finance at several universities, including California's UCLA.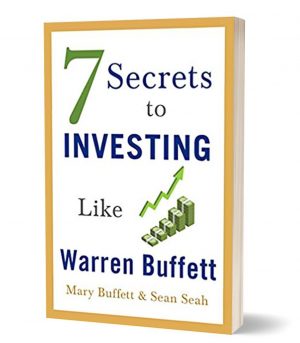 Women And Money
She also has a passion for equality in the financial world, and has been pleased to see more women move up the ranks.
"Being a woman myself, in an area which has been driven by men, I find it very encouraging to see more and more women becoming involved and successful.
I believe it's a great place for women to excel because they naturally handle most of the economics at home and also are in the business world more and more. I am very excited about women understanding and knowing what to do with their money."
As a mother and grandmother, Mary is keen to pass on her deep knowledge of investment and business to the younger generation to help them manage their wealth.
"First of all, I teach them that they have to make money. Once they understand how hard that is, it gives them more reason to take care of it and have it grow. I talk about understanding companies they work with."
In fact it was her son going to college that led to Mary investing in Apple many years ago.
She was in the Apple store buying everything he needed, when he suggested she invest in the technology company.
"He understood more about it than I did. Once I started to look at the company, I realised it would be a great investment over time. So that was my first investment in Apple and one of his. Of course, we have been very happy with the results we have gotten over the years."
And while she is no longer in touch with Warren, she prides herself on having had "exceptional access to him, his thinking and investing process. He really has not changed much at all. So I feel very confident in knowing his investment style."
Going forward she is working on updating the original Buffettology and teaching a webinar every month with the Buffett Online School. Plus, she's always looking for interesting investment.
Issue: SG 57 MY 46 2021