By Yixin Ng
Vikas Garg traded his high-flying life in finance for social enterprise in 2017. Today, he is creating a social platform that opens up sustainable consumption to a wide range of users, from the curious to the conscious.
Through the Covid-19 pandemic, abillion grew five times across its key metrics, reporting four record quarters and growing its team from eight to 26 people.
Vikas had founded abillion in 2017 as a review platform for vegan food, but now has set his sights on a more inclusive sustainability movement. Today, abillion is a social platform where 300,000 users post about and discover vegan cuisine, but also sustainable brands and cruelty-free products including those in the fashion and beauty space.
Global Leader
At the turn of 2021, the company was renamed from abillionveg to abillion, reflecting a broadened sustainability scope. Vikas said: "We talk a lot about our mission to help a billion people eat and live more sustainably, and for us that means more vegan food to save the planet. We're also conscious that in achieving our mission, we have to work with a diverse group of people from around the world, and be welcoming to everyone and open-minded about where people start the journey."
"For some, a more sustainable life starts with reducing single-use plastics, while for others it could mean flying less. Our mission is to become the global leader in sustainability, and for that reason we wanted a name that felt inclusive from the start."
Falafel Wrap
"It all started with one user, posting a photo of a falafel wrap right here in Singapore. We're nearly at a million downloads and 300,000 active users today," Vikas told Millionaireasia. abillion members hail from all over the world including users across North America, Europe and Asia. Over the last two years, abillion has seen major organic growth from Italy, Germany, Canada, Singapore and Mexico.
Vikas, formerly Managing Director of Dymon Asia Capital and Vice President of Credit Suisse, is no stranger to success. But success is a different journey when tied to impact, expressed Vikas, who prior to his career in finance had been a 14-year-old Wall Street intern. "You might put on a trade and get lucky and make a lot of money, and we would call that success. You might even create impact in the world with the money you make from that trade, but for most people, this kind of success is mostly isolated from impact." Vikas says abillion can readily quantify its impact through the money it has invested in feeding children, putting girls in school, saving animals and planting trees around the world.
Through a "unique giving programme" embedded into the app, abillion donates US$1 for every review posted. "Our philanthropic goal in 2021 is to donate US$1 million to organisations that are on the frontlines of animal welfare, activism, world hunger, literacy and empowering women and minorities. We hope in years to come that our model inspires other companies to rethink how they grow and how they allocate resources," Vikas shared.
Protecting The Planet
Vikas admitted the start-up's journey was not plain sailing. What has surprised him most is "how long it takes to build something truly great". It was in the summer of 2017 when Vikas gathered a small group of like-minded individuals in his flat in Singapore to launch the platform.
Vikas, who himself turned vegan in 2008, recounted the early days of abillion: "I wanted to create a platform that would help others make the transition from where choosing sustainably went from feeling like a sacrifice to simply the best thing on the menu.
"From the beginning I planned to start small, with a very scrappy team, knowing that it would take two to three years before things started to move in the right direction. It has been four years, and I am finally feeling really good about our team's ability to navigate the challenges ahead."
Difficult as it may be, placing sustainability and impact at the heart of the business could prove to be the defining part of abillion's success. It has taken years to build a sustainability-minded community, but the focus on social significance is instrumental in allowing the start-up to progress to monetisation.
On the platform, businesses have been able to claim their listings on abillion, and more recently interact directly with abillion users through a business dashboard. Only now is Vikas planning to launch paid services for businesses, giving them more tools to market and engage with members.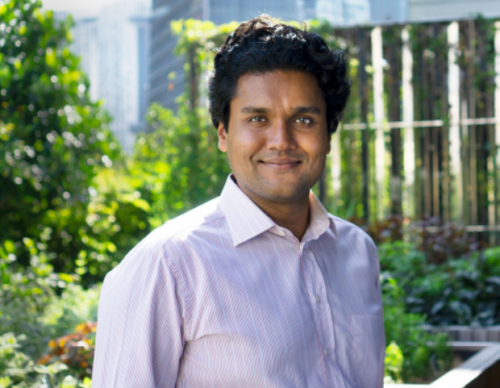 Plant-Based Protein
According to projections by Boston Consulting Group (BCG) and Blue Horizon Corporation, the market for alternative protein could hit US$290 billion by 2035. The joint study estimates that by the same year, alternative protein could make up 11% of the overall market.
Vikas is optimistic about growth given the rise of "flexitarians", who along with omnivores make up 65% of abillion's user base. "While we will always serve our vegan customers first and foremost, it is exciting to see more non-vegan and non-vegetarian consumers show a strong interest in making impactful and plant-based consumer choices."
Citing figures from The Good Food Institute, Vikas further pointed out that US$3.1 billion was invested into alternative protein producers in 2020, of which US$2.1 billion went towards plant-based producers. "This is already spurring a huge growth in development, which will lead to a high volume of new, and hopefully delicious, products entering the market within the next few years," Vikas remarked.
Vikas sees abillion in a "unique position" to bring together an ecosystem, connecting consumers with one another, and also businesses and charities. On plans to build up a marketplace, Vikas shared: "For the next few years, we are going to be focused on turning abillion into the definitive social commerce platform for sustainability."
"Anyone with a creative idea tackling sustainability, sitting anywhere in the world, will be able to raise the capital they need to build and sell their products on abillion." Since its inception in 2017, abillion has raised US$6.5million in funding. The company is currently raising US$10 million in its Series A funding round, with which it plans to expand operations in Singapore. "We're working to build a marketplace that drives the creation of the next 10,000 eco-entrepreneurs around the planet," he added.
Issue: SG 57 MY 46 2021