By Dhiya Bisyarah
Somnio is the world's first yacht-liner and she is already making tidal waves without even setting sail. Measuring an impressive 222 metres in length, she offers a jaw-dropping floating condo of 39 ultra-luxury apartments. This gem of the waters is so exclusive, one would need to be invited to purchase a suite.
At a starting price of US$11.2 million per apartment, Somnio, which means to dream in Latin, is the newest and most luxurious method of smooth- sailing travel. Apart from having the biggest yacht in the world as a residence, apartment owners will benefit from exceptional concierge services, world-class medical care and lavish amenities of the highest standards. While private jets may still be the norm for the average billionaire, having access to a private superyacht built for worry-free travelling during the pandemic is a welcome addition.
Ship Shape
Somnio carries a price tag in the region of €500 million and is being constructed at Norwegian shipyard Vard for a projected mid-2024 launch date. The design phase has been underway for 18 months, with two of the world's foremost architectural and design studios, Tillberg Design of Sweden and Winch Design from the UK, involved in the project.
Among its many benefits, its onboard features include a 10,000-bottle wine cellar, various restaurants and bars, and a beach club in the ship's bow. A total of 39 apartments spread across six "apartment decks" are now for sale, with prospective owners either invited or referred to join. The customisable apartments, can include features such as a kitchen, gym, library and dining spaces.
A Safe Bubble
Somnio is a seafarers' haven that is away from high-risk land-based crowds and global threats. Coupled with medical care on deck, owners are reassured safety while cruising through any calm and chaos. This superyacht acts as a 'safe travel bubble' in a controlled environment. Furthermore, Somnio promotes the allure of yacht ownership through intimate experiences, with exploring the four corners of the globe as one of its bespoke activities. From the Mediterranean, New York, sailing the South Pacific to expeditions in Antarctica — all from the comfort of a personalised luxury apartment — there truly is no safer bubble than maximum privacy.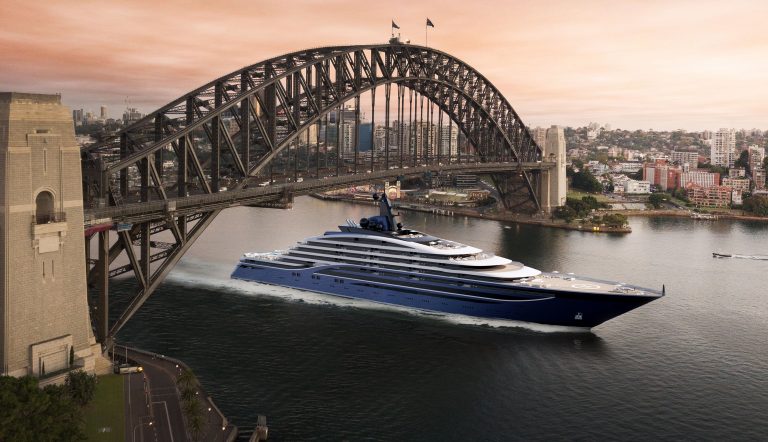 Unique Voyages
hotel experience gives plenty of mileage for extraordinary activities and amenities to unfold. "Owners will share a truly unique lifestyle at sea, with a hand-picked crew and a never-ending global itinerary of carefully selected destinations and experiences befitting a yacht of this nature," noted Erik Bredhe, captain and co-founder of Somnio. Additionally, a strong anchor of Somnio is environmental sustainability, whereby scientists and marine experts onboard conduct research into ocean environments. Ultimately, for all those on deck, cruising the world for self-indulgence is also for the goodness of oceanic research.
Global Yacht Market
The global yacht market has seen an unprecedented growth in demand and sales, proving that yachts are the super-rich's newest coveted luxury item. Industry reports from International Yacht Company indicate that the global yacht market is the strongest it has been in four years. Once valued at US$6.85 billion in 2020, it is projected to grow to US$10.82 billion in 2027, reaching a compound annual growth rate (CAGR) of 6.6%. Boat International, luxury lifestyle publisher, also records 208 superyachts bought on the brokerage market for US$1 billion this year to May 17. It was 131, a year prior. Interestingly, yachts serve as safe way to enjoy the outdoors even with social distancing measures in place. For the super-rich, it is terrain they are willing to keep calm and cruise on.
Issue: SG 57 MY 46 2021