By Justin Harper
As a 30-year-plus veteran of the hospitality business, Iqbal Jumabhoy knows a thing or two about hotels and travel. Armed with more than three decades of experience he decided to launch an all-in-one travel booking platform last year. The travel app, BlackBook, now offers the largest hotel inventory available and is still expanding.
In his previous role as CEO of SilverNeedle Hospitality Group, Iqbal was spending around 200 days a year travelling out of a suitcase and seeing first-hand some of the pain points travellers face on a regular basis.
He also created an "Ask the CEO" account to gain first-hand information about what was troubling his guests and staff. He found common themes among the hundreds of emails he received. 
"The bad stuff people send you is also the most valuable thing. You learn so much about what can be improved."
There were many pain points highlighted that Iqbal wanted to address with BlackBook which aims to enhance the end-to-end travel experience for his customers. 
"I want to benefit the people I have been serving for such a long time," Iqbal said.
Post Pandemic World
The app was soft launched in November last year, a challenging time for the tourism industry struggling with Covid-19 lockdowns and travel restrictions. 
Talking about the timing, Iqbal said: "There's no better or worse time to launch. You launch at the time to get your product out there so people can play with it, and we can improve on it and expand on it."
Now, with more countries opening up and vaccination rates rising, BlackBook is in a good position to capitalise on the expected strong uptick in travel. One of its additions is a useful tool called Covid Checker which helps its users plan their trips based on the latest travel advice, quarantine requirements and restrictions.
"We will learn to live with the pandemic and vaccines will get better. Travel is as relevant now as before, it's just different. Managing that travel experience has become even more important." 
While BlackBook is a global travel app, it is staying agile and pivoting towards markets that are becoming vaccinated quicker than others. It is seeing growth in the US, European Union, East Asia and Middle East.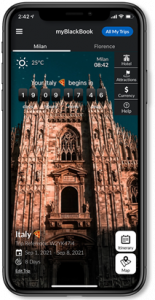 New Era Of Travel
Technology plays a major role in improving the travel experience for BlackBook customers, and it has been working with aggregators and wholesalers to bring together around 2.5 million hotels within its orbit which Iqbal reckons is around 25% more than rival apps. Revenues will come from a variety of sources from booking commissions, reward partner fees, advertising revenues to the monetisation of its analytics.
But it's clear that travellers will take centre stage at BlackBook. A good example of this is its generous rewards programme which allows customers to easily convert their reward points into cash, rather than having to build up more points before they can redeem them on a free hotel stay.
Broadly speaking, BlackBook's target market covers those aged between 20 and 50, who are tech-smart and are travelling as a couple, family or with friends. But Iqbal has seen a new segment emerge – solo travellers who want to travel with other people in a group but still enjoy a level of individuality. 
"That's why we say 'Travel Your Way'". 
Later this year, the app will expand to include flights and tourist attractions.
Startup Senior
While Iqbal admits he is old for a start-up founder, he has been given a new lease of life building an app he really believes in. 
"I get to work with the best people which makes me very enthusiastic. The young people on my team are really smart and have such a handle on the future. I'm loving it."
BlackBook's ultimate goal is to offer travellers an end-to-end experience – from booking flights and accommodation to figuring out places to visit while earning reward points with maximum flexibility. In July it bought a company called 3DCerts which issues and authenticates digital documents, including Covid-19 PCR pre-departure tests, using blockchain technology. This could help travellers manage trips while adhering to new international travel and health regulations.
It is also rolling out new features for myBlackBook which is an itinerary planner that allows friends and family to design their perfect multi-city trip together.
Issue: SG 57 MY 46 2021