The telco market is a saturated one, but Xanne Leo, founder and CEO of Gorilla Mobile, has a concept that sets them apart. Using Blockchain technology, its proprietary feature, Switchback, converts unused mobile data into credits. These credits are called Gorilla Go tokens and are powered by Ethereum. Unlike rollback features from other telcos, these tokens do not expire, can offset bills and be shared among friends and family.
Xanne was inspired during a business meeting which led her to see the potential in using data as currency. To her, it was "one of those serendipity moments that wasn't planned.'' Before founding Gorilla Mobile, Xanne had 16 years of experience in the financial industry and co-founded the blockchain application Infinitus Token in 2017.
She has ensured her team came from diverse backgrounds to come up with a product "for the next generation." Whilst the mechanics of blockchain sound intimidating and complex, Xanne reassures that Gorilla Mobile is very easy to navigate – just like its easy-to-remember name.
No Data To Waste
Their core product, Switchback, uses proprietary technology, powered by Blockchain. It is an automatic switchback function that enables users to convert unused mobile data into Gorilla Go tokens. By tokenising mobile data into a digital currency, users can transfer and trade mobile data with friends and family overseas even if they are under different telcos.
Xanne compares it to the Singapore Parking app where users pay only for their parking duration and get refunded for unused time. With Switchback, data is never wasted. 
The telco mainly targets professionals, managers, executives and technicians who have frequent yet unpredictable travel patterns. However, the lockdowns and travel bans meant that most of them were working from home, utilising WiFi. As a result, large quantities of mobile data remained unused. 
"Business travellers are always hopping from city to city and their schedules can sometimes be random and haphazard. They typically have a lot of leftover and unused travel data. They tend to buy more than what they need and they are always on a flight to the next place where the existing system makes you buy the next telco package," she shared.
Gorilla Mobile's sim card allows coverage for 160 countries, covering most regions except for Latin America and Africa. This reduces the hassle of looking for a top-up kiosk, thereby solving existing physical and technological limitations.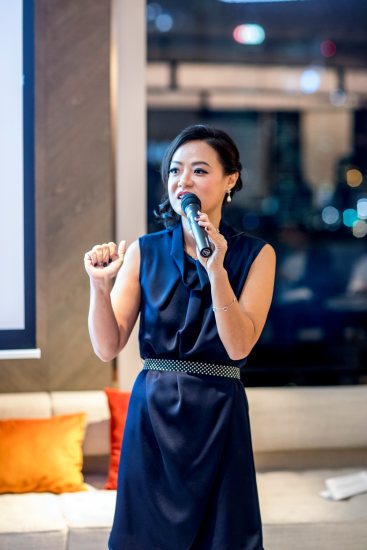 Next Gen Gorilla
Gorilla's next move is to launch lucky number non-fungible tokens (NFTs). Mobile numbers are created using NFT technology which can shorten the operation process of a number transfer. Users can create their own unique NFT from the mobile app and send it over to another person after transferring ownership. All that's left to do is redeem the specific NFT.
"(We) are possibly extending this technology for other uses like car number plates, licenses – anything that is original or would need a nonfungible, one-of-a-kind number will have a protocol," she added.
Gorilla Mobile has received US$3 million of seed capital and is set to raise another US$5 million to develop its product roadmap and expand across Southeast Asia.
The blockchain business holds many possibilities. And one thing is clear: Gorilla Mobile is a pioneering venture with no signs of slowing down.
Plan Pandemic
While the pandemic affected their roadmap, Xanne remained creative in her product roll-out. Gorilla Mobile pushed out its Switch25 mobile plan during the pre-launch which catered to remote working and overseas calls.
"We do a bit of risk. But like every other company, we are all trying to adapt, survive and create other things to adapt to the pandemic,'' she shared. 
The telco's golden strategy lies in creating niche services within a competitive market. Xanne believes slashing prices signifies the tail end of a technological age. The industry, she argues, needs innovation to grow.
"With 5G coming in, it will be a brand new era that will bring exciting developments and service offerings to us and the world's advancements. When that happens, only then will consumers move away from price and focus on service differentiation again," Xanne added.
Issue: SG 58 MY 47 2021