By Dhiya Bisyarah
Since being awarded three Michelin stars at this year's Michelin Guide, Restaurant Zen has become the talk of the town and the 'it' place to wine and dine. From serving Nordic-Japanese cuisine to offering a modern rendition of a Kaya Waffle for Singapore's National Day celebration, executive chef Tristin Farmer is proving that innovation, authenticity and versatility are key drivers for success. 
Hailing from Scotland, Tristin was inspired by the chef whites his uncle wore, and started out washing pots as his first part-time job. Along the way, he rubbed shoulders with experts Gordon Ramsay and Björn Frantzén, and travelled to Dubai and Hong Kong to learn the makings of a restaurant. He joined Frantzén Group in 2019 and opened Restaurant Zen, which is now a three-Michelin-starred eatery.
The Spot
Unlike most fine dining restaurants, Zen sits in a charming and quaint shophouse tucked in the quiet district of Singapore. There are three floors, each offering a unique purpose and mood; a kitchen to witness how dishes are decorated and prepared; a dining room on the second floor for main courses; with the living room on the upper floor for desserts and winding down.
"It feels like a Swedish living room. The first floor after you come in, there's an energy and atmosphere of 'what is happening here.' You get to see how your food is being prepared, you get to relax and sit on the comfy chairs. It's all open plan,'' described Tristin.
"We are not a stuffy fine dining restaurant. We chat, we are a little more informal, but we are professionals – we know where the boundaries are,'' he continued.
Tristin likens the DNA of Zen to a house party with friends. Guests are made to feel comfortable shuttling from one area to another, spending the night over great food and cosy conversations.
Feast For All
Zen's menu is a well-balanced mix of Nordic philosophies and Japan influences. The hero lies in its ingredients which he lets speak for itself.
"Number one, you want the guests to enjoy the food. Keep ingredients simple,'' he beamed.
From balancing the oils and perfumes of a dish, measuring the fat acidity of a vinaigrette to meticulous plating, every dish that comes out is a "10 out of 10.''
Some of his creations include the Crudo; aged Buri dressed with lime accompanied with a warm vinaigrette of fermented apricot and Zen prestige caviar; a bright chawanmushi unagi; and dry aged Loire Valley quail, marinated with barley shio koji, hot smoked and grilled and brushed with barley koji oil.
"We want every guest to come and feel happy and enjoy the food. To smile, laugh, chat and love the journey. If I serve any of my dishes tonight, even if there is a Michelin diner that comes in or not, I am sure we are serving the perfect dish,'' Tristin declared. 
For homegrown flavours, Zen's kaya waffle toast during the lockdown won many local hearts. Its launch attracted a three-hour long queue with patrons waiting to take-out and experience the elusive taste of a Michelin-starred restaurant. Toasted sourdough bread ice cream and coffee caramel sits in between brown butter waffles dressed with coffee and vanilla syrup. Not to forget, Kaya custard and a slice of butter pay homage to the iconic Singaporean breakfast dish.
"We made 50 ice cream sandwiches every day. The demand reached to 320 before dining restrictions lifted during the lockdown,'' he recalled. "But, we still put in the same amount of effort just like our philosophy.''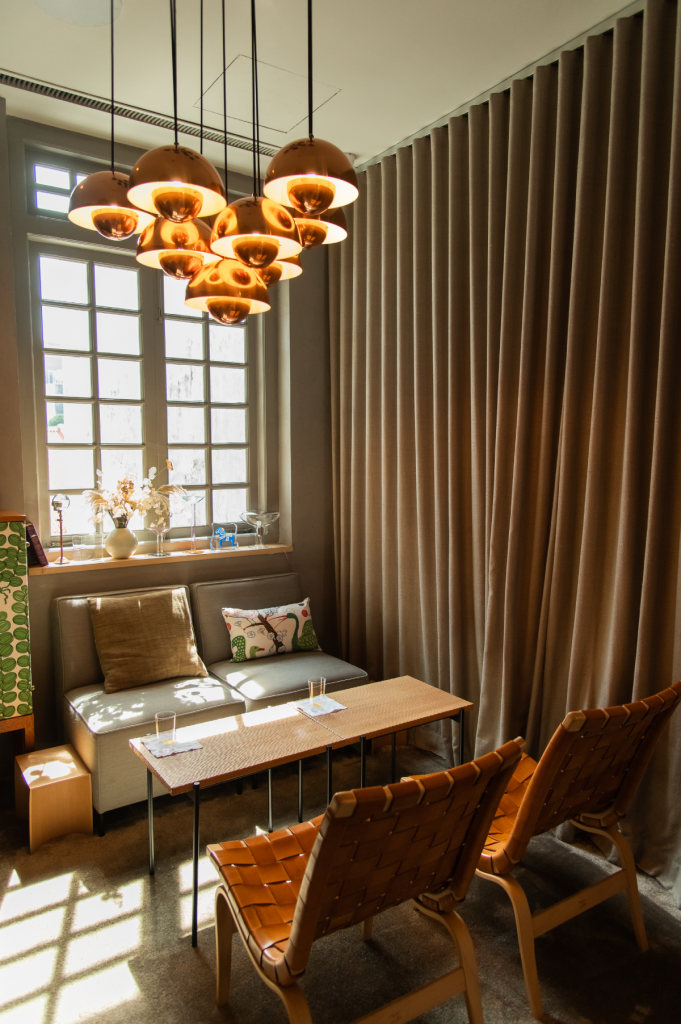 An Open Kitchen
Impeccable service stands at the heart of Zen and it comes with the entire dining experience. For every course, a chef comes up to a guest's table to interact and take them through each dish. They are trained to know all the steps and are skilled in preparing it. Tableside jokes are a natural occurrence, but it is never gimmicky or pretentious, according to Tristin.
The staff openly shares the ingredients of the night, their specialty and why they were sourced. There is a strong culture of transparency and warmth.
"When you come to the restaurant, you get to meet all the chefs tonight and you ask any chef, any member of the staff a question, you get the same answer. How we work, the style of things, how the team communicates…the number of tableware we have to polish, the glasses we have to set. It's the little things,'' Tristin explained.
Zen is "very big on staff training'' despite the high costs incurred in maintaining a high level of service. Currently, they have a dedicated team of 31.
"The whole package together, from the food, the staff to the interior, is unique but it's because we believe these are what makes a good restaurant. All these things we do is what we think is right for our restaurant.''
Not The Last Supper
While the pressure to perform and meet expectations mount, Tristin considers it humbling and rewarding. Owing it to his passion and team, working at Zen "is the best job in the world.''
To him, being fully booked in a pandemic with local customers is a dream for any restaurant anywhere in the world. For that, he remains grateful for the love Zen has received. This included 800 email requests for tables and being fully booked months in advance.
"There was of course pressure, but we do it because we enjoy it. We get the adrenaline rush in the job every day. I get intellectually stimulated. I don't get bored. I do it because I love my job,'' he said. Tristin advises young budding chefs that grit is vital to open a new restaurant. "It's been 20 years for me to get here, so if you want to be a chef, do it because you love it."
Tristin aims for Zen to become better every day, and the plan never veered off even with its three-star Michelin win. "Here and now, we want to make every service better. We want to make our food better. We want to make our experience better. There might potentially be another restaurant in Singapore, but there won't be another Zen in the world.''
Issue: SG 58 MY 47 2021