By Dhiya Bisyarah
Singapore's Vaccinated Travel Lanes felt like an early Christmas gift. With a total of ten countries opening up, the heart has definitely fluttered for unbridled experiences and picture-perfect holidays. If unparalleled relaxation amidst witty and irreverent architecture sounds exciting, The Standard, Hua Hin might tick all the boxes and be the ideal place to book next.
Inspiration Everywhere
The makings of The Standard, Hua Hin were deeply rooted in the beauty of its surroundings. Coupling the brand's strong and unapologetic personality, the hotel cleverly integrated the beautiful landscape of the nearby jungle foliage. Specific sites such as an old heritage house was also preserved and enhanced to add a charming flair.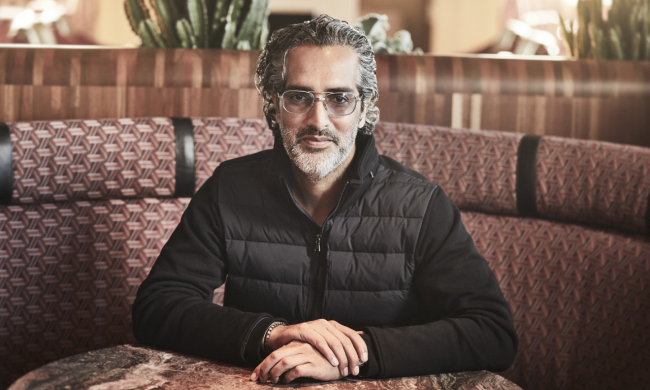 "We take inspiration from the energy of Bangkok. From the cuisine, the culture, everything. All the things we love from the city will be showcased in the hotel. There's a lot of local material and we work with local collaborators. Internal inspiration is from the brand. Externally, we take it from the location itself,'' shared Amar Lalvani.
The brand has always prided themselves as trend-leaders in a bolder and edgier aesthetic, pushing the envelope as to what is defined as luxury. Instead of going for classic, stereotypical designs, The Standard injects fun, personality and tongue-in-cheek mastery into their space.
According to Amar, The Standard, Hua Hin has similar accents to their Miami hotel. It is not trying to be ornate, pretentious or obnoxiously luxurious. In fact, the heart of it all lies in it being an approachable and therapeutic escapade that guests would wish it was their home. Or beach home.
"It's something very different and special, and you just have to see it to believe it.''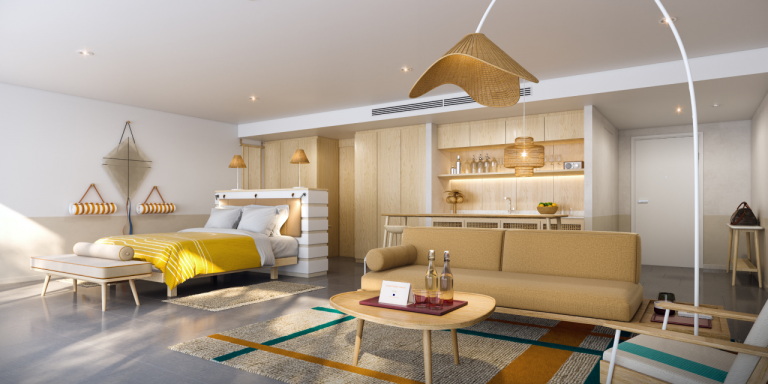 Impeccable Service
The pinnacle of a true luxury hotel lies in its service, and Hua Hin lacks nothing. In fact, Amar's philosophy includes hiring people for their personality and letting them shine with it. The Standard staff training includes mixing their personalities whilst serving customers. There is no standard decorum. Just freedom in expressing themselves.
"We opened the Maldives hotel and I was there enjoying a vacation. One of the servers came up to me and said 'thank you, you let me keep my beard! All of the other restaurants made me shave it, and you were the one who didn't.' It was a significant cultural obligation for him,'' Amar mentioned.
He also recalled an incident where a bartender willingly shared her stories and knowledge about the flavours and origins of gin from all around the world. She was not required to do so, but her enthusiasm was infectious and enlivened the room. Everyone could tell she was passionate about the history of gin.
"You could tell it was the first time she explained that to people. We had to pull it out of her. We want these people to express themselves and that would take somewhat of a retraining. Experiences would be enhanced so much more if we let people shine and convey their personalities,'' he said.
Some unbelievable services also included the time when Madonna performed in one of their hotels for charity. She stayed up till four in the morning performing for the crowd. The Standard also hosted the after party for 2021's Met Gala. Access to such experiences can only be unlocked at The Standard.
"The best thing about our business: the more we meet people, the more people have fun, the better the company does. So we do all these designs, experiences for people to enjoy themselves. And that's really all we want.''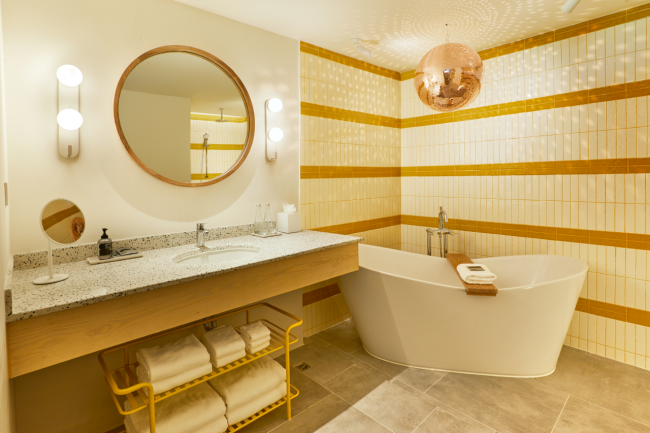 A Look Into The Future
Apart from The Standard, Hua Hin, Amar spills on the future launch of the brand reaching Singapore's terrain very soon. While currently in the works, The Standard, Singapore was described as an "oasis to the city''. There will be a gorgeous swimming pool with a bar that can be swam up to and guests can hang out unabashedly in the pool with a drink in hand. The hottest restaurant in Singapore might make an appearance too. Neighbourhood-wise? Potentially, steps off Orchard Road.
"Music will be a big component; lobby will be full of music. Cocktails, food will be great. (There will be) a lush landscape garden. You will feel like you are in an oasis away from everything,'' he described.
To Amar, opening The Standard, Hua Hin after the pandemic felt very exciting after the pandemic. He remains optimistic towards the brand's future plans and hopes there will be renewed appreciation for travel and hospitality altogether.
"Hotels never shut their doors. We are open 24/7, 365 days. It feels wonderful to finally be meeting people, training people and welcoming guests. It was a hard time, but now we feel fantastic to be opening something new again,'' he smiled.
Issue: SG 58 MY 47 2021