Having been blessed with a fulfilling marriage and enriching family life, Violet's life goal is to create 1 million happy marriages and make a difference in people's lives by helping them find love.
After observing her colleagues who did not have time to date, due to their busy lives around work, 23-year-old Violet Lim started the first modern dating company, Lunch Actually Group with her then fiancé, now husband, Jamie Lee in 2004. Today, it has offices in Singapore, Hong Kong, Malaysia, Indonesia and Thailand.
One of their latest products, called Peerage, is exclusively designed for high-flyers and high-net-worth singles who are looking for long term relationships. 
We sit down with Violet to find out more about Peerage and how she helps her millionaire clients find love. 
Q: Tell us more about your inspiration behind starting a dating business?
Like most people out there, I did not grow up dreaming of becoming a matchmaker. In fact, I was set to have the typical Asian lifestyle route of studying hard, going to an excellent university, and then getting a good job. I read Law at the University of Manchester, and did my Masters in Personnel Management at the London School of Economics. However, I soon realised that as much as I Ioved law, it was not my calling. I then went to work in a bank. While I was working there, I was surprised that many of my eligible and attractive colleagues were single. I discovered that it was because they were all busy and virtually married to their jobs.
At the same time, I chanced upon the concept of lunch dating while I was travelling, and immediately saw the potential of this business. Lunch dates were short, sweet, and simple — long enough to know someone, yet not too long that it would become awkward. So that was when it became very clear to me. I've always been active in community service work for years as well, and I loved the idea of being able to combine my passion of helping others to find their lifelong happiness with the prospect of building a business. Together with Jamie, we decided to quit our jobs and start a dating company called Lunch Actually in April 2004. 
Q: What's the reason behind creating Peerage? 
My team and I developed Peerage in 2019. At the time, we have been in the industry for over 15 years, and we've had tens of thousands of clients, arranged over hundreds of thousands of dates, and we noticed that high-flyers and affluent singles have different sets of  challenges in dating.
For example, they are really concerned about their privacy and time. Peerage is designed for convenience and utmost privacy, starting with a private consultation that is done at the client's preferred venue.
Q: What sets your service apart from other dating agencies or dating apps?
The main difference is definitely our human touch and strict verifications before we even accept them as a member and start finding their matches. Unlike other dating apps that use AI or algorithms to identify matches, we handpick each match for our clients.
This is an important part of our process, as we feel a lot about a person can be lost if we were just relying on a simple dating bio or profile. Instead, by meeting them, we can really get to know them, their habits and body language, and non-verbal cues which are very useful.
Other things that set us apart from other dating agencies is that we believe Lunch Actually Group is Southeast Asia's first and largest lunch dating company. Unlike many local matchmakers who are often a one-man or one-woman service, Lunch Actually to-date has presence in 5 countries, 80+ full-time associates and 17 years of matchmaking experience — making us one of the oldest dating service in Asia with a proven success record. 
Q: How does Peerage work?
The key feature of Peerage is that we provide a dedicated relationship manager for each client who will assist, headhunt, follow-up and arrange the introductions throughout their membership journey. Peerage also allows outsourcing and headhunting the most compatible match from other countries' databases and networks. 
We will then present the matches to the client, arrange the dates, follow up and provide post-date assistance, for example sending gifts after the date, and also help them for their second date.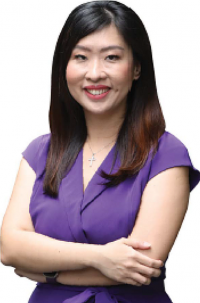 Q: How do you find suitable profiles for your clients?
After the consultation, our relationship manager will source and handpick the matches, and present at least 3 profiles to the client. It will include the potential match's basic information and photos. We will not reveal any personal or contact information. Only after the client's approval, we will then arrange the date, at both parties' availability and preferred restaurants.
We will tap on our extensive database of all services under Lunch Actually Group, networking events and also referrals and word-of-mouth from our clients and consultants.
On top of that, we also have a network of international matchmakers across Asia, Europe and US that we work with — to source for suitable profiles for our Peerage clients.
Q: Who are your clients and why do they need  a matchmaking service?
Peerage clients range from late 30s to 50s, with varied occupations, including CEOs, entrepreneurs, C-Suites and high-ranking professionals. They have a very busy schedule and thus, would prefer to outsource their love life to a professional.
The common misconception is that clients who engage the service of a professional matchmaker means that they are unable to find love on their own. This can't be further from the truth. In fact, they want to be more strategic and intentional with their time and resources — and remove the guessing game.
Through our service, the person that each client meets, has already been screened, verified and handpicked by our matchmaker. He/she would be within 70% of what our client is looking for, and the intention of wanting a lasting relationship is mutual.
Our matching is done in a holistic manner, taking into accounts their values, goals and lifestyle. For example, a lady client indicated her preference of meeting someone who's positive and lighthearted, amongst her other basic criteria like age and religion. We matched her with a gentleman who fits into her preference — warm, optimistic and shares similar values.  Their first date went really well, as they had a lot of things in common and both told us after the date that they felt the sparks! They got attached soon after and will be getting married this December!
Q: What's the success rate?
As we are not a marriage agency, we do not measure success by marriage. How we measure our success is by how our clients rate our matches after each date. In the last 17 years, we have sent out more than 150,000 dates.
We are happy to know that 85% of our members rate their matches as satisfactory to excellent. We do not know for sure how many successful couples we have as they do not always tell us. Based on our estimation, there would be at least 4000+ couples who have gotten married through us. And many of these couples have gone on to start their own families. We even had one Peerage client who actually found his partner on his first date!