By: Mathilda D'Silva
D'Silva is dubbed the mermaid of Pasir Ris for good reason.
In the blazing heat of day I'm at work — paddling out in a small patch of ocean between Malaysia and Singapore. I can see the kelongs, or offshore fish farms, in the distance. Today, the waters are remarkably clean and I find only a few pieces of floating styrofoam bobbing with the waves. This is a welcome change to the soup of plastic and debris that fills this stretch of water.
Here in my ocean office, the people I work with on the kelongs and the cleaners on the beach know nothing of who I am on land, my time on TV screens in Singapore Idol. All my corporate accomplishments with banks, telcos and broadcasters seem irrelevant to them. Working on the coast is about daily relationship-building and fieldwork, a combination of data collection and constant observation over "kopi-O" or black coffee.
Looking out at this little stretch of coast in Pasir Ris, I find myself thinking about each drop of water here that I am trying desperately to protect. This constant pull to the ocean began in my youth but was catalysed by one fateful dragon boat race in Boracay, Philippines in 2015. Paddling in the idyllic waters surrounding the island's pristine white beaches, it was impossible to tell that it was polluted with untreated wastewater from the sewage pipes of nearby hotels and restaurants.
This triggered an intense auto-immune response in my body, which left me severely sick after the trip. My hair and skin turned white, and I had problems speaking and walking. Needless to say, the question "Why me?" was always on my mind — but more than that, was my life about to be totally derailed because of just three days of exposure to polluted water?
It was.
In the years spent finding a cure and accepting what happened, I began to wonder if my corporate life matched my new sense of purpose. In 2020, I decided to leave a fantastic job by starting Ocean Purpose Project just as the Covid-19 pandemic hit. Ocean Purpose Project is not just a social enterprise but a movement to create cool projects and bring people together to rethink sustainability through solution engineering.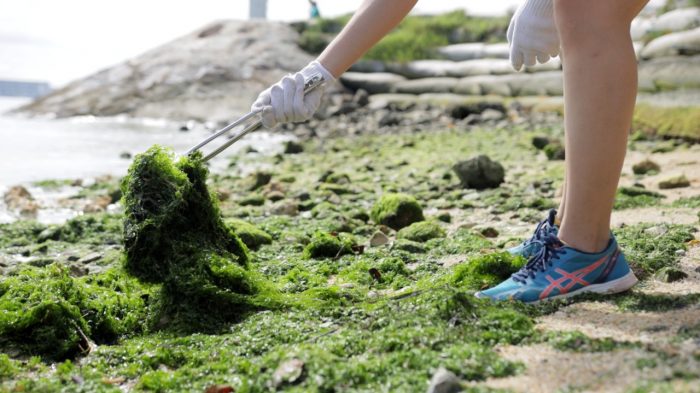 Last year we were mentored in the Shell Start Up Engine to create a plastic-to-fuel project that can turn unsorted ocean plastics into pure hydrogen, carbon nanotubes and low sulphur fuel — the first of its kind. It has been challenging but rewarding to propose a project that required true partnership across multiple stakeholders who were often vilified as "big bad polluters". This little disruptive idea is now a United Nations Development Programme (UNDP) Indonesia project to be developed on Mandalaika Island, Indonesia with great potential.
Recently, our latest project focuses on why I fell sick in the first place — oceans polluted with sewage and chemical nutrients. Excessive nutrients in the water cause increased algal blooms in the waters of Singapore, decimating fish stocks in Singapore's offshore fish farms in the north. This combined with the massive amount of plastic trash washing into our shores is a double punch that clearly affects the fish farms supplying our supermarkets with fresh seafood.
Paddling in Pasir Ris, the vision to form our OPP Bioremediation and Bioplastics project began. We are using seaweed and mussel lines to clear up algal blooms and make 100% biodegradable bioplastics from these native species with keen interest from local F&B and shops ready to try our "Kelong Uncle Brand Plastic bags." We are also developing research and carbon offsets for this project, funded by our revenue.
We have had loads of enquiries from curious companies eager to hear us speak but the crucial step towards helping us scale our project is still slow to materialise aggravated by the pandemic. At times when I wonder how we can move these projects forward, it is the kelong farmers who motivate me with gifts of fruit grown on their floating farms or send me uplifting messages on WhatsApp.
It's strange — I'm moving faster in my poor health than I did when I was younger. I firmly believe purpose and passion can fuel the ideas of tomorrow. And I am proof that you don't need an environmental science degree or years of experience in sustainability to change the way we live.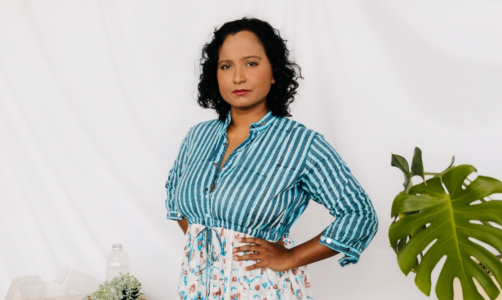 Mathilda D'Silva is the founder and CEO of Ocean Purpose Project — a Singaporean social enterprise helping to solve the ocean plastic crisis through plastic-to-fuel projects, bioplastics and behavioural change. This singing siren was a finalist on Singapore Idol, becoming a TV Producer and Head of Community and Advocacy for Mediacorp and StarHub, driving viral sustainability with DBS.