By Alfieyah Abdullah
Choose from eccentric print and vibrant colours to subtle nods that embrace the year of the tiger. 
The tiger has long been the epitome of positive qualities: strength, courage, confidence, and ambition. Aptly so, the year of the tiger has pushed fashion designers to embolden their collections with styles that are vibrant, dynamic and embody the celebrated animal. As Chinese New Year beckons, here are some luxury fashion brands you can consider adding to your wardrobe during this last-minute shopping frenzy.
Dolce & Gabbana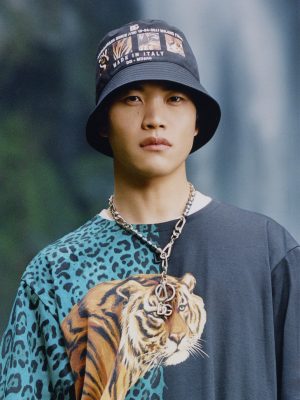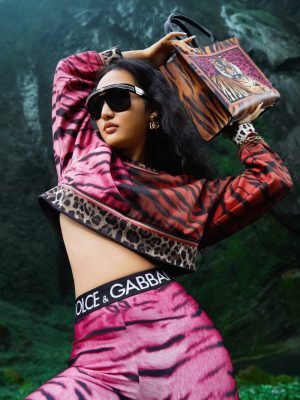 This special collection celebrates the Year of the Tiger; representing strength and bravery. Dolce & Gabbana pays homage to the symbolic animal with a selection of new contemporary prints, accentuated with a vivid colour palette.
The brand's iconic leopard print intertwines with the tiger pattern in various colours, accompanied with an exquisite drawing of tigers. The special print is translated into unique looks for men, women, and kids.
Photos: Dolce & Gabbana
Gucci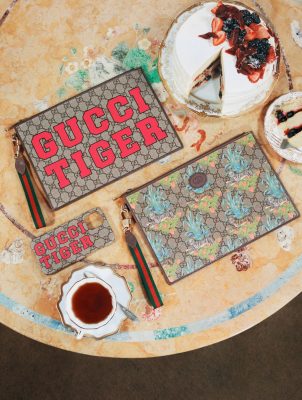 Gucci's festive ready-to-wear Chinese New Year collection features a variety of renditions surrounding the tiger. Plastered against colourful backdrops of greenery and florals, the new print is inspired by a late 1960s archival design by Gucci Flora creator, Vittorio Accornero. An illustration of the big cat is worked into a pastel palette and scattered across accessories, as well as outerwear, denim, and dresses. Signature items available include the Princetown loafer, Jackie bag, and Rhyton sneaker.
On some pieces, the tiger is painted by hand or applied as a patch, crafted with artisanal crotchet and embroidery pieces. The infamous Gucci Tiger wording is incorporated alongside Gucci's GG monogram. These products come with exclusive, themed packaging bathed in the Gucci Tiger print.
Photos: Gucci
Balenciaga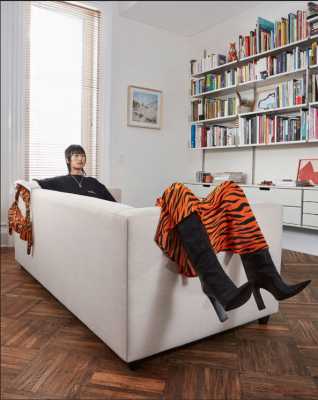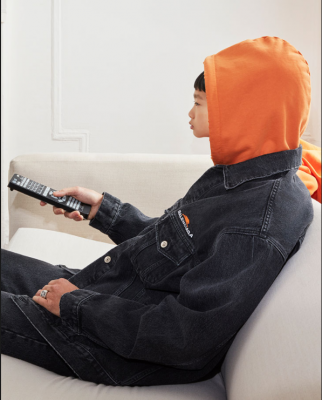 Balenciaga's appreciation for the Chinese zodiac is palpable across 57 unique garments and accessories sporting both subtle colours and bold expressions. T-shirts, fleeces, hoodies and sneakers are given a sporty and casual twist with the quintessential orange and black colourway inspired by the jungle cat. All in all, the perfect illustration of timeless design for celebrating Lunar New Year with loved ones at home.
Photos: Balenciaga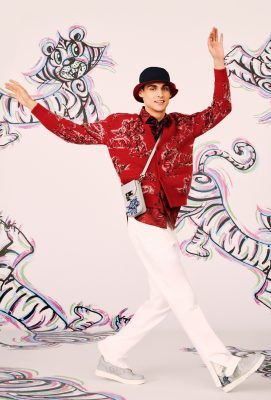 Dior Men's artistic director, Kim Jones, teamed up with artist Kenny Scharf for a Lunar New Year collection that focuses on a more tongue-in-cheek reinterpretation of the festivities: the element of water in line with the year's zodiac.
The capsule features the Water Tiger motif in prints, embroidery, and patches spread across shirts, knitwear, outerwear, and denim in wearable colours of red and blue. Pair these fashion pieces with complementary accessories such as the Dior Lingot 22 bag, B27 sneakers, and men's jewellery for a classy but casual fit.
Photos: Dior
Alexander McQueen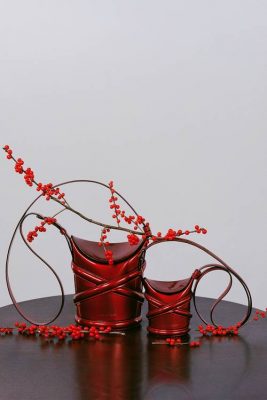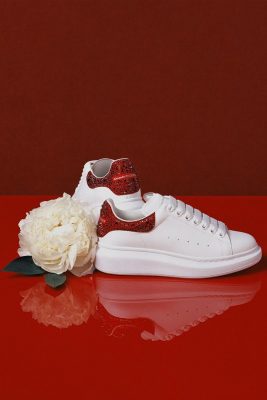 Embrace the grungie and feisty side of the tiger with Alexander McQueen's capsule collection. Centred around red, the signature pieces in the collection are bound to turn heads.
Add the striking Oversized Sneaker Set to your outfit. The kicks are enveloped in metallic leather and doused in either ruby red or white colourways. To top it all off, crystals are embellished across the silhouette with each variation sporting speckles of red. A white Alexander McQueen branding finishes off the tongues and heels.
Iconic pieces such as The Curve and Curve Mini bags are also available in metallic leather and set with crystals. For a more subtle addition to an outfit, the brand's selection of small leather goods – quilted metallic leather purses with a signature skull closure in black, credit card holders and a black leather coin purse stamped with a red McQueen seal – adds the right amount of aplomb to the festivities.
Photos: Alexander McQueen
Yves Saint Laurent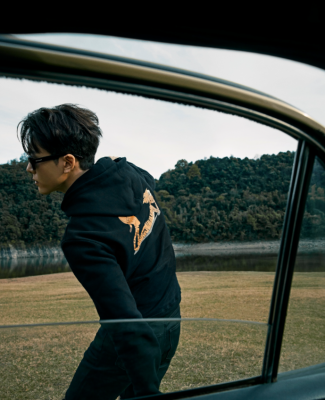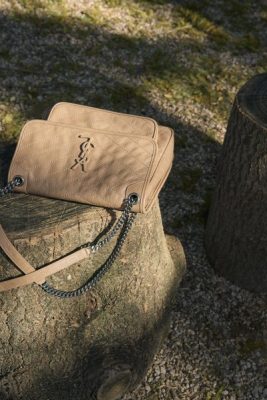 Saint Laurent's limited Chinese New Year collection embraces the wild and free spirit of the tiger. The 2022 collection spans across womenswear and menswear, and surprisingly, strays away from the bright tones of red and orange. Instead, fashion connoisseurs can enjoy the spectrum of warm earth tones from the brand's curated ready-to-wear selection of accessories and garments.
A rendition of the iconic Pink Panther is introduced here, albeit without his vibrant pink coat. Shedding its colours to turn into an orange tiger, the beloved cartoon character is featured as a print on a hooded sweater, as well as a design on a key ring.
Venturing into the brand's known rock-and-roll territory, a 'trick-eye' pattern featuring tiger stripes is highlighted on shirts, a hooded cardigan, as well as bags. Fans of a more muted palette can opt for the Niki and Manhattan bag, both of which have been redressed to embody elegant chic.
Photos: Saint Laurent
Fendi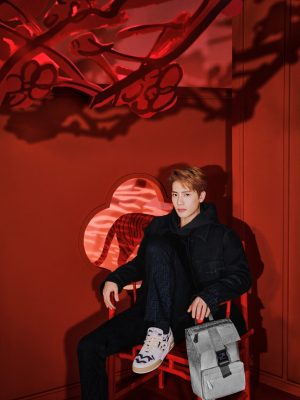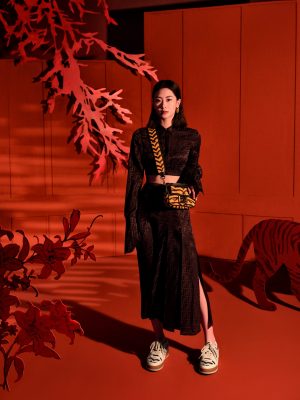 Fendi's vibrant capsule collection treats us to men's and women's ready-to-wear cuts brimming with electrifying energy. The collection features the classic orange, tiger print animalier motif, inspired by the Siberian tigers found in the north-eastern region of China.
However, the collection remains sophisticated, with a tasteful black and grey monochrome debut on shirts, suits, and suede messenger bags in the menswear department. On the more adventurous spectrum, classic Fendi accessories such as the Mini Peekaboo, Baguette, and Sunshine Shoppers are given a fierce, feline makeover.
Photos: Fendi
Burberry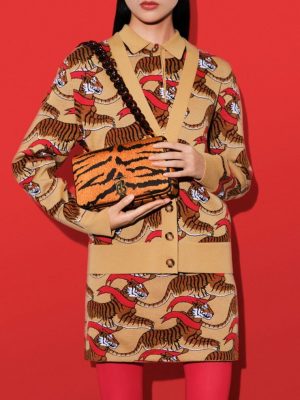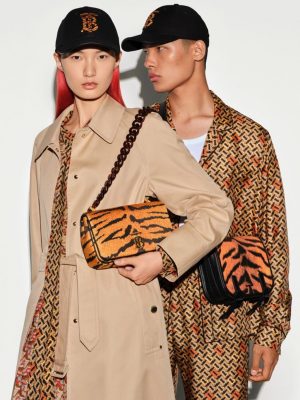 Burberry's exclusive collection boldly features the jungle cat's print in orange. The print adorns the brand's signature Olympia bag, scarves and sneakers.
Additionally, a reinvention of the TB Monogram print is introduced in honey beige, punctuated with bright orange motifs. The graphic prints and striped motifs in striking orange and red add a new twist to Burberry classics such as the Heritage Trench, pussy-bow blouses, pleated skirts, and Italian-woven nylon jackets.
Photos: Burberry