By Dhiya Bisyarah
These stylish pieces can take you from breakfast in bed to Zoom call ready.
Beauty sleep – not a term that materialises from thin air. A good night's sleep has been proven to do wonders to skin complexion, rejuvenation, and mental health. With the effect the current global situation has had on our mental and physical health, luxury and high-end fashion brands have penetrated the 'sleep' market, with emphasis on producing lounge pieces and sleepwear in a bid to encourage us to sleep better.
Here is a roundup of 10 luxury labels you can consider to add-on to your beauty sleep experience.
Silky Miracle
True to its name, Silky Miracle ranges from sleepwear to bedsheets, and it is all made from 100% mulberry silk that feels luxe to the touch. Some of its statement pieces include light tweed pajamas, houndstooth robes and safari-chic shorts that are bold yet elegant. The brand does little details just as tastefully. In fact, most of its pieces are encrusted with Swarovski crystal buttons for a fancy accent. Other notable collaborations include Silky Miracle X Barbie whereby it juxtaposes sophisticated fabrics like silk and tweed, with feminine silhouettes such as slinky slip dresses. In addition, silk is also known to provide a plethora of health benefits. A glowing complexion, reduced hair breakage and relieving sensitive skin are some of its claims that altogether contributes to better sleep.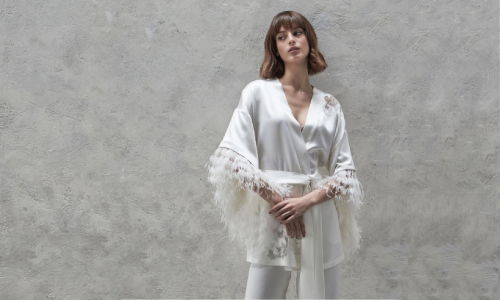 For Restless Sleepers
This Milan brand combines bold prints with the softest, most lightweight fabrics hailed from Italy and the printing ateliers of Como. For Restless Sleepers (F.R.S), was founded by Francesca Ruffini who wanted everyone to look effortlessly chic. The collection – filled with kimonos, camisoles, three-piece sets – is so luxurious and lush, that it feels almost a sin to be sharing it with the world.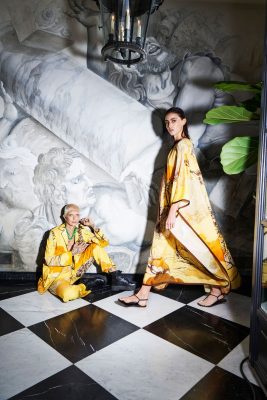 Neiwai
Neiwai was founded in 2012, but the brand really catapulted to mainstream appeal when it championed women empowerment and diversity. Moreover, its campaigns included a diverse range of sizes, skin tones and women which were a big plus to the already demanding loungewear market. Soon enough, Neiwai was worn by big Youtuber names such as Weylie Hoang, Jenn Im, Sophia Chang and Michelle Choi, all of whom have sworn the brand produces one of the most comfortable sleepwear pieces. Its loungewear is made to live in; equal parts practical and comfortable.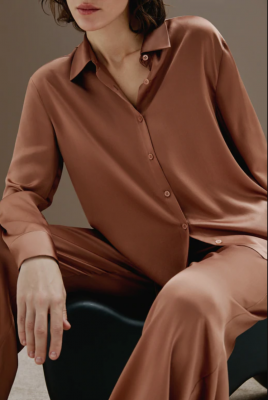 At. Agni
One look at At. Agni, and a few keywords might come to mind: chic, confident and timeless. Get ready to lounge about in comfort everyday with trans-seasonal wear that feels as good as it looks. Consider the Jacques Silk Shirt for a wardrobe mainstay that is boxy, wide sleeved, and made of silk to suit the warmer climates and cooler months alike. Otherwise, At. Agni also excels in its knitwear which makes a plush outfit that is perfect to burrow into for chilly nights.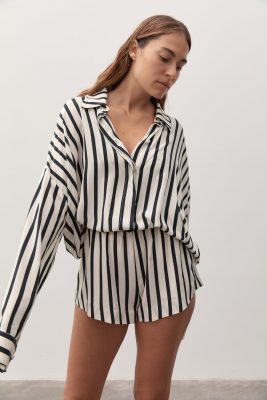 Olivia Von Halle
After the sold-out Missy tracksuit that was worn by A-listers such as Rihanna, Cara Delevigne and Jennifer Lopez, London label Olivia Von Halle continuously released loungewear pieces that exuded star-studded appeal. Not only does the label offer an extensive repertoire of modern and chic pieces, the brand's pieces also became a need in most wardrobes. In addition, the label was successful in blurring the lines between loungewear and ready-to-wear, uplifting it to standout status, with its delivery of quality pieces and innovative prints. Its highlight goes to the Queenie Vita Silk Crepe De Chine Robe, which is finished beautifully in lightweight crepe de Chine silk.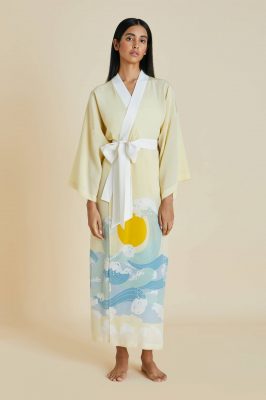 Carine Gilson
For the elegant woman, Carine Gilson brings incomparable beauty to each one of its pieces, for it is all made by hand. The finest silks are inlaid with the most beautiful lace; Caudry lace and Lyon silk, in partnership with France's premier ateliers in Calais and Lyon. Detailed and simply one of a kind, each collection was inspired by nature, art deco, and an ethereal worldliness. Feel like royalty in its couture collection that pays homage to classic and timeless silhouettes such as the bolero and kimono, and wear its pieces as if they are rare gems.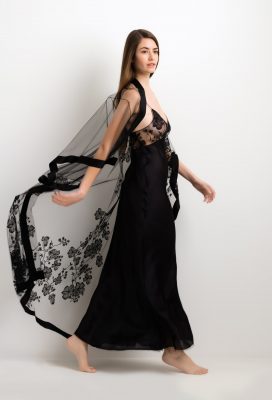 Skims
Of course, Kim Kardashian's brainchild, Skims makes it onto the list. Branded to be a "solutions-oriented" brand, Skims has launched a host of ultra-soft pieces made for lounging. Influencers have raved about the brand's flattering cut that hugs the body in all the right curves. It is also made in silky breathable fabric that keeps the body cool and comfortable while sleeping, a criterion crucial for the balmy Singapore climate. Neutral lovers would also appreciate the colourways available: earthy, warm hues that are not garish or overboard. After all, lounging should be relaxing and easy, no?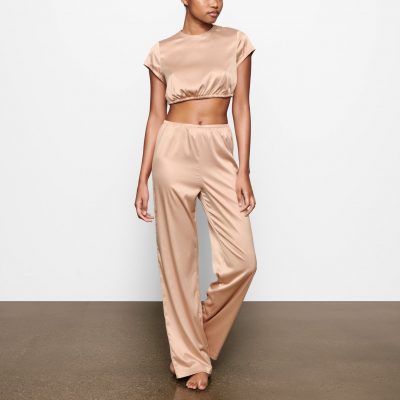 Sporty and Rich
Inspired by country club attire and iconic professional athletes, Sporty and Rich requires no introduction. The label gained a lot of attention for its mantra on wellness and self-love, and it aspires to produce garments that are exclusive and chic. Its entire loungewear collection is bathed in 90's proportions and eclectic colour palettes that are wearable and fun. Effortlessly stylish and coy, it is hard to go wrong with a cotton-jersey sweatshirt and matching shorts after (what else?) a tennis game in Beverly Hills with Karlie Kloss.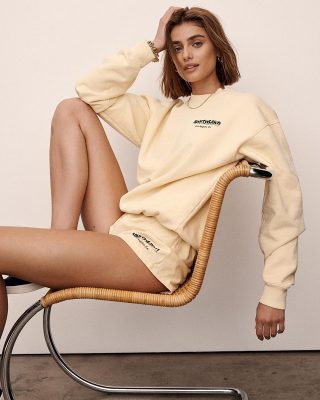 Terry Towelling
Another brand positioned to embody resort wear for the beach, club and cruise, Terry Towelling masters a slightly different aesthetic. Taking cues from the European summer and classic American 70's poolside attire, the brand creates loungewear that is made of 100% luxury toweling. Don't mistake it for your bathroom towel. Terry Towelling ensures its organic cotton fabric is breathable, cosy and tailored. Check out its wide-leg Capri Pant in Pink Ombre that is crafted out of 100% hand-dyed custom organic cotton toweling, ideal for wearing indoors or out.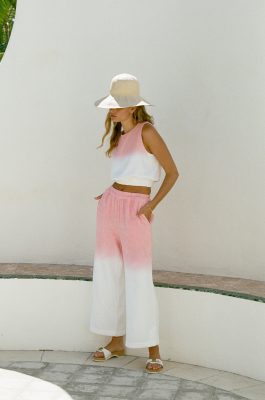 Pour Les Femmes
There is plenty to choose at Pour Les Femmes: lightweight vintage-inspired dresses, delicate nightgowns, breathable cotton silhouettes, washable lines, silk charmeuse jumpsuits and long luxurious silk dresses. The colour palette spans from pastel hues to sexier shades too which perfectly suits the day and night respectively. Aesthetics aside, Pour Les Femmes also has a social mission. Founded by designer Karen Fowler and activist Robin Wright, it continues to support women in Congo and other conflict regions in Africa through its employment and skilled trade initiatives; not just looking good, but doing good.