By Dhiya Bisyarah
Two restyled Ferretti Yacht 780 Restyle have arrived in Singapore through local exclusive distributor Hong Seh Marine.
No stranger in the realm of luxury cruises, Hong Seh Marine introduces the revamped Ferretti Yachts 780 Restyle to Singapore waters – and she's a beauty.
Following their world premiere at Cannes Yachting Festive 2021, two brand new Ferretti Yachts have now caught the attention of seafarers and luxury-seekers alike. This time, we take a look at the Ferretti Yacht 780 Restyle.
Dubbed as the "Villa on the seas", Ferretti Yacht 780 Restyle's recent restyled features include extensive glazed surfaces in the hull, new furnishings, an enlarged bar, and redesigned interiors. The flybridge is also modified to sport a sleek and streamlined look, evolved from the stylistic hallmarks introduced by its predecessors, Ferretti Yacht 500 and Ferretti Yacht 1000.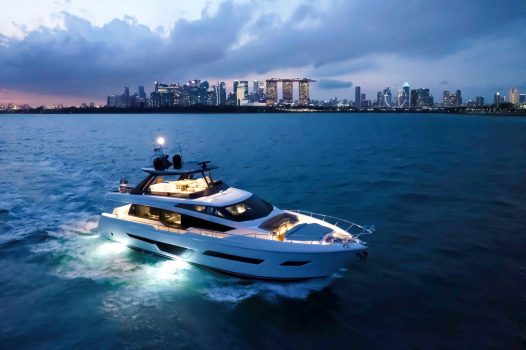 EXTERIOR
The aft of the Ferretti Yacht 780 Restyle is among the redesigned areas worthy to mention.
Not only can it be customised to measure 4.35 metres in length upon request, the aft is furnished with sun loungers, poufs and pads. The space is ideal for relaxing near the water's edge and feeling the sea breeze, while sunbathing is also a welcome addition.
The outdoor forward area is also a private lounge that is comparable to a maxi yacht. Tenants can lounge on a U-shaped sofa and a spacious central sun pad while overlooking the clear and calm waters.
For adventure buffs, roomy storage compartments are built in at the hull sides near the cockpit to stow equipment such as seabobs and paddleboards, all within easy reach. This is what makes the Ferretti Yacht 780 Restyle so versatile to people of different lifestyles and needs.
All the exterior furnishings, including the modular sofas and the armchairs in teak and batyline fabric, are customised by Roda exclusively for Ferretti Yachts. Tenants can look forward to sophisticated and cosmopolitan furniture that are high-quality and built for outdoor use. In fact, the furniture are made precisely for sun and water exposure.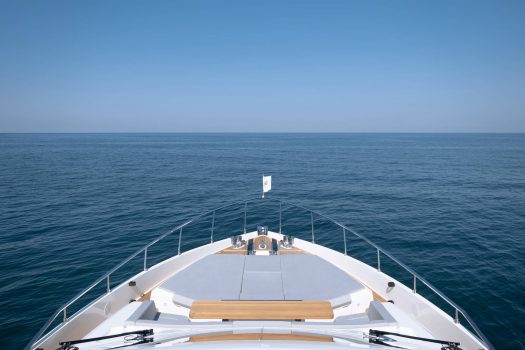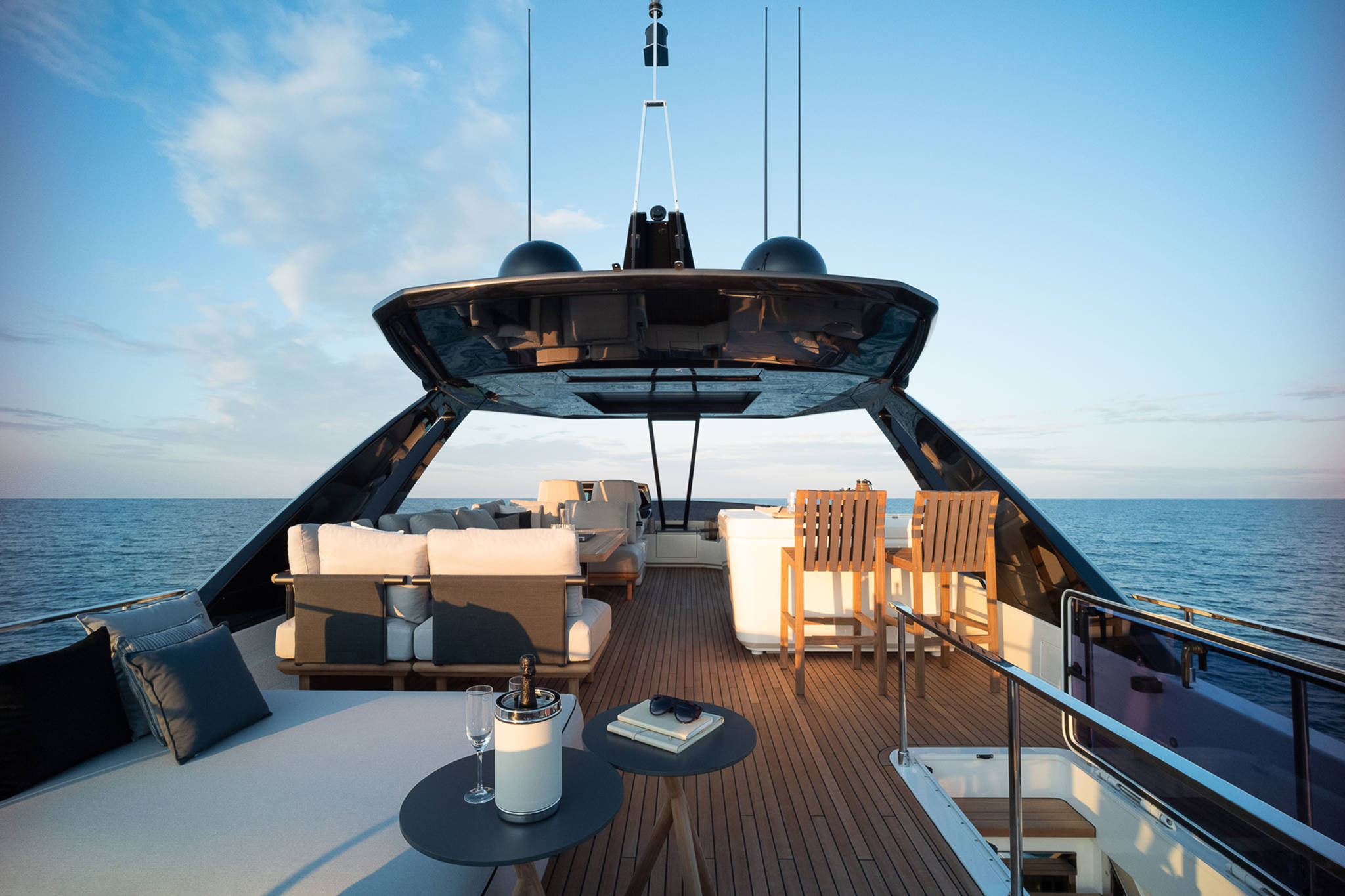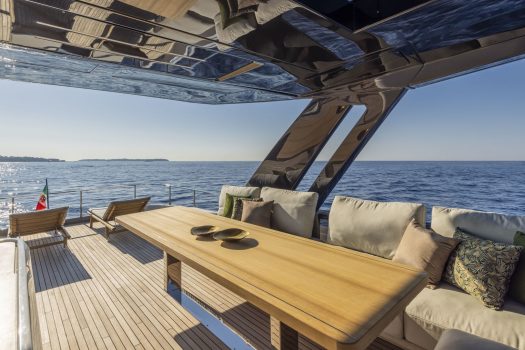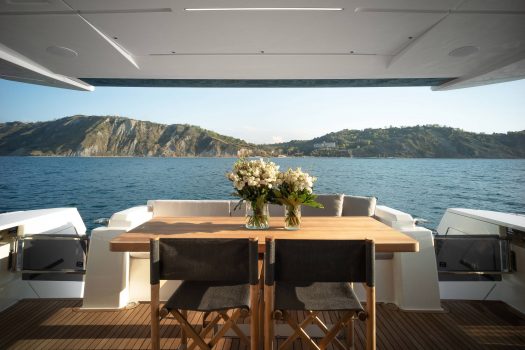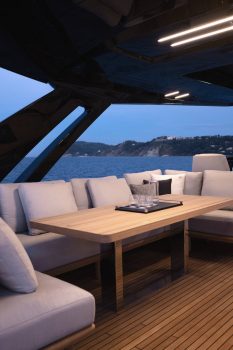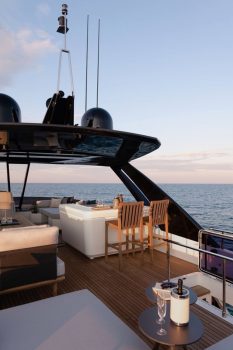 INTERIOR
The Ferretti Yacht 780 Restyle was intended to be a home away from home, so its infrastructure is made to be user-friendly and multi-purpose.
The interiors include a choice of two décor moods: classic, with warmer and earthy colours; and contemporary, an urban and modern look with cooler hues inspired by Taormina in Sicily.
The lounge on the main deck sits a freestanding L-shaped sofa, a Living Divani coffee table ideal for champagne and a 65-inch television. The space opens up to the dining area that can seat up to eight people. Such a fluid concept also allows tenants to go back and forth with ease.
A lot of thought went into the décor as well. The sturdy furniture used in these spaces would not move much when sea turbulence picks up. A sliding door on the left provides access to the lower deck, while the galley on the starboard side is a multi-functional space available in three configurations: closed, with a fixed glass partition or with a sliding glass partition that reveals a bar counter. Tenants can easily opt for an open concept but switch to privacy when needed.
For proper rest on the seas, the lower deck provides a standard guest area layout with four cabins, all with en-suite bedrooms.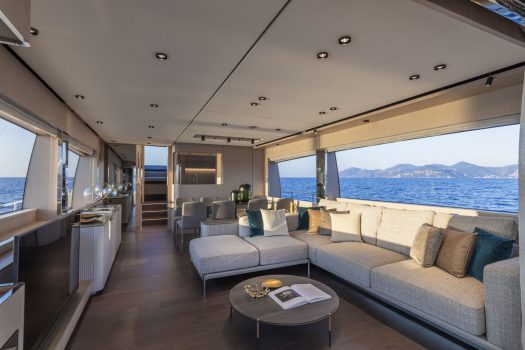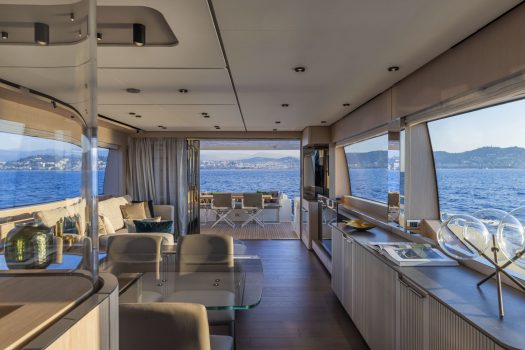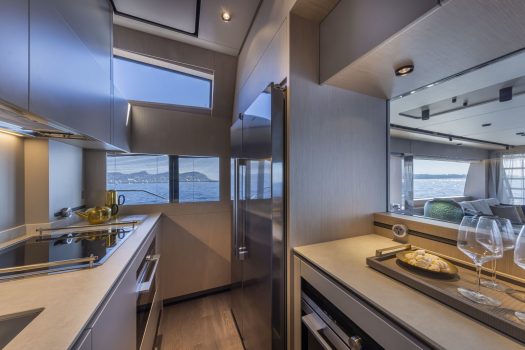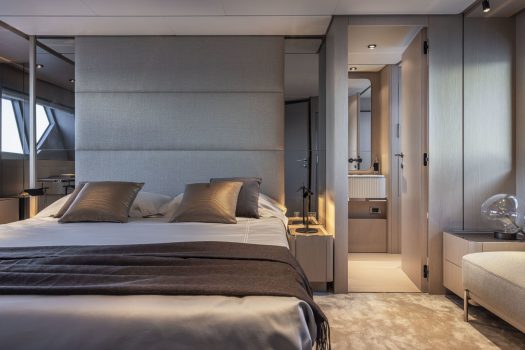 TECHNOLOGY
As with all revamped fleet models, the Ferretti Yacht 780 Restyle's propulsion and technology have been enhanced to accommodate top speeds and steering precision.
Cruising speeds can perform up to top speeds of 31 knots and cruise at 27 knots with its pair of 1,550 mphp MAN engines designed for a smooth-sailing journey. For comparison, industry standards offer the speed of 28 knots and a cruising speed of 14 knots. As such, this makes the yacht exceptional in its engine power.
For easy handling in confined waters, the Dynamic Positioning System (DPS) keeps the boat steady in the same position, even in strong winds or currents. When it comes to berthing, the system is also ideal when preparing to moor, refuel or waiting for a bridge to open. All in all, a thoughtfully designed vessel to cruise through the calm and chaos.