20 April 2022
By Alfieyah Abdullah
With restrictions becoming more relaxed, there's more time for celebration. Whether it's a birthday, anniversary, or even a Friday night, we're always looking for more dining options. Pick from this list of 10 restaurants and bars to satiate your stomach and quench your thirst, and embrace the true spirit and embodiment of celebration.  
 1. MO BAR's Asia-Pacific Inspired Afternoon Tea
 MO BAR at Mandarin Oriental is all about its quirky menus and fantastic drinks. Running through the month of April, its new afternoon tea experience delivers unique and diversified flavours of the Asia-Pacific region in one place.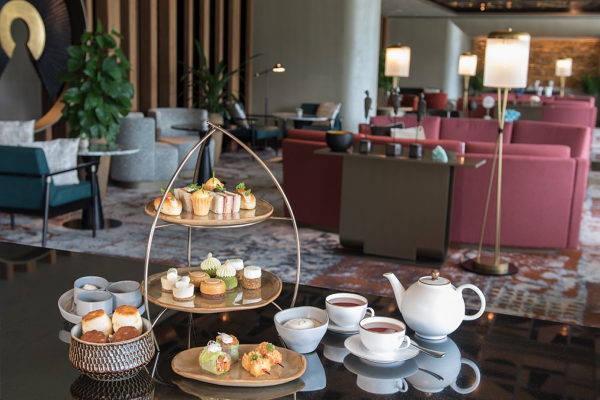 Ideal for those looking for a light brunch with the girls' situation, MO BAR's Asia-Pacific Afternoon Tea menu begins with savoury delights of Romesco toast topped with fresh scallop mousseline and basil, fresh Boston lobster wrapped in a tender brioche bun with crème fraiche; and a Green Pea flan served with freshwater rainbow trout and charcoal crisp.
To complement the savouriness, an assortment of sweet treats follows. Kumquat carrot comprising of mandarin mousse, kumquat compote and spiced carrot cake, or in lieu of Easter, decadent Golden Eggs; a delicate hummingbird cake with coconut-pineapple mousse and exotic coulis. Of course, teatime won't be complete with MO BAR's signature scones and its wide range of rare teas inspired by countries in the Asia-Pacific region.
The afternoon tea menu runs daily for the month of April (3 to 5pm on weekdays and an additional session from 12.30 to 2.30pm on weekends) and is priced at S$52++ per guest.
Reservations can be made here.
2. WAKUDA at Marina Bay Sands
Marina Bay Sands is excited to unveil its new dining concept: WAKUDA by culinary maestro Tetsuya Wakuda and 50 Eggs Hospitality Group. Recently opened (17 April), WAKUDA presents an approachable, multi-faceted gastronomic experience – offering a la carte and bar dining in elegantly designed communal spaces – to private Omakase in an exclusive enclave.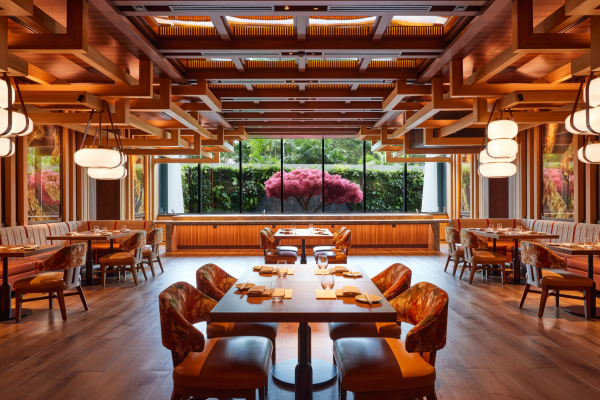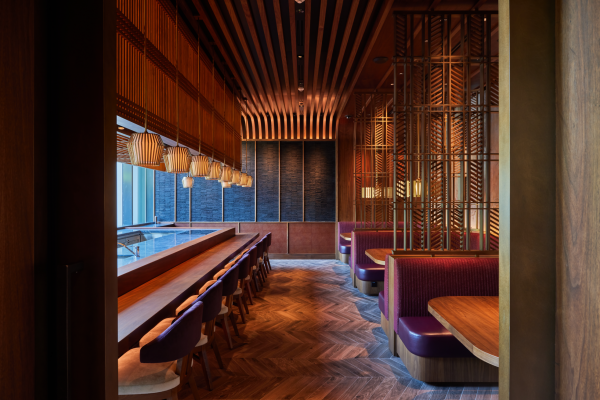 Savour Chef Tetsuya's innovative interpretations of Japanese classics within its diverse menu: appetisers, sashimi, sushi, tempura, as well as high-quality small plates of grilled items, rice bowls and cold soba. Experience the charm of Japanese mixology at the bar, a glowing focal point of the restaurant; ribbed walnut and gold-leaf accented wall panels accent the traditional sake barrels and extensive ranks of bottled spirits and liquor.
3. yi by Jereme Leung
yi by Jereme Leung showcases its seasonal spring menu from now to 19 June 2022. It is a curation of freshly harvested greens featured in a range of dishes, to symbolise new beginnings and renewed strength.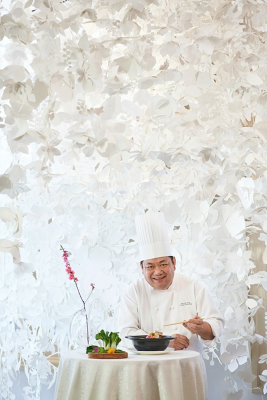 The culinary journey begins on a refreshing note with a medley of cold dishes: Beancurd Skin Roll stuffed with Tuna, Tofu and Spring Onions, or Poached Sea Whelk with Chilli and Sichuan Peppercorn dressing. Of course, the menu also highlights provincial classics such as Double-boiled Chicken Soup with House-made Sichuan Style Spinach Tofu and Stuffed Bamboo Fungus, and Spinach Soup with "Wensi Tofu", Tiger Prawn and Crabmeat.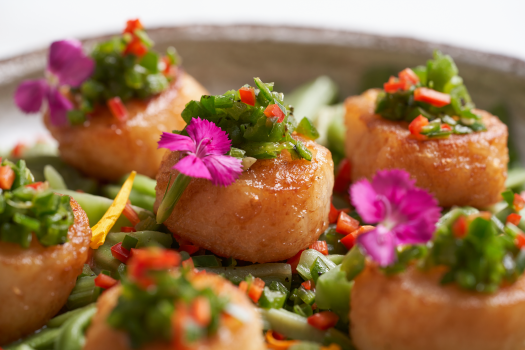 The delightful oriental menu continues with delicate main courses that include, Wok-fried Hokkaido Scallops and Imperial Vegetables with Grilled Green Pepper Sauce, as well as Handmade Noodles with Braised 8-head Abalone, Goose Palm and Mullet Roe Shavings in Scallion Oil.
Finally, the seasonal menu comes with two adaptations of handcrafted dim-sum of Steamed Mugwort Glutinous Dumplings stuffed with Water Chestnuts and Mixed Mushrooms, or Steamed Watercress Dumplings with Prawn and Mullet Roe.
Reservations can be made here.
4. Yi Qian Private Dining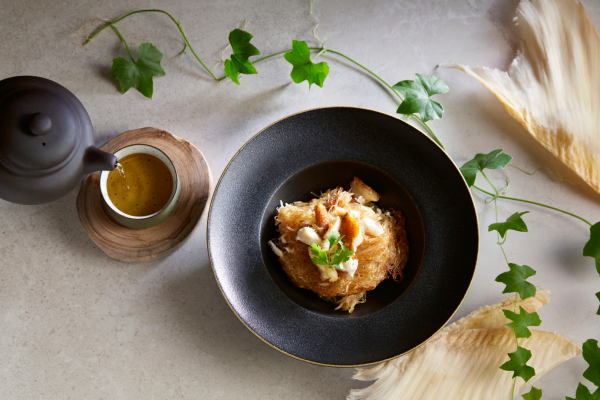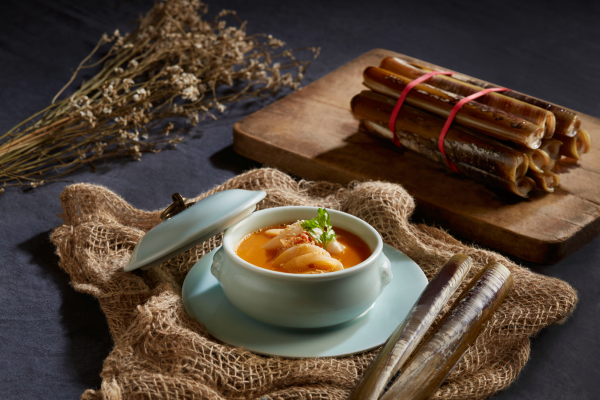 For celebrations that require a more intimate experience, Yi Qian Private Dining is the way to go. Enjoy exceptional Cantonese and Teochew fare with some of its signature dishes. These include fried Sharks Fin Soup with Crabmeat, served with Superior Stock in Teapot, Poached Bamboo Clam with Beansprouts and Dough fritter in Prawn Stock, as well as the show-stopping Pig's Stomach and Chicken in Pepper Soup and Sizzling Kai Lan Claypot.
Finish the delectable meal with Sugar Encrusted Deep Fried Yam Sticks, a Teochew classic.
5. Kaarla Restaurant & Bar
Kaarla meaning 'where the home fires burn' is a newly launched contemporary Australian restaurant and bar at CapitaSpring putting the spotlight on coastal Australian cuisine. Its menu showcases the highlights of Australia's coastal regions, and its bounty of desirable seafood, livestock, and produce.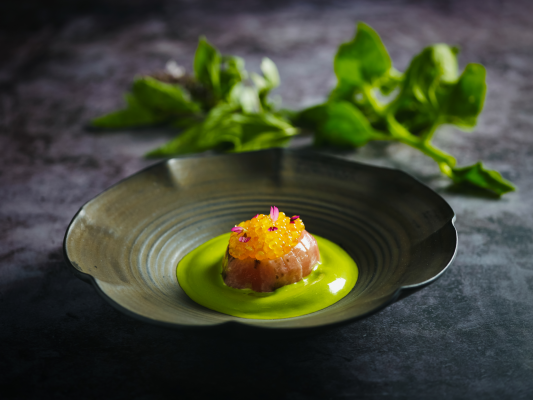 At Kaarla, its focus is its Australian custom-built grill and oven that fires up to serves seasonal produce from land, river, and sea, cooked farm-to-table. Dishes include Sydney Rock Oyster with Fig leaf and Oyster Plant Vinegar and a Zucchini, Mussels, Tomato, and Trout Roe dish.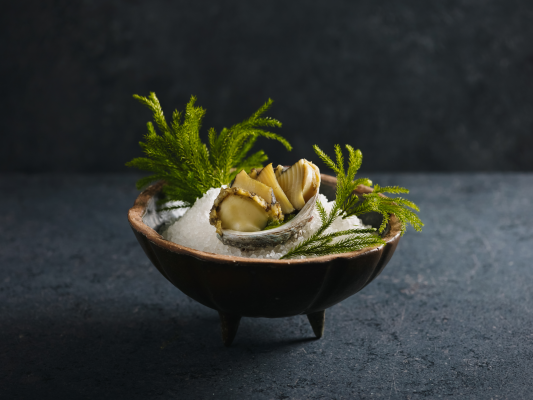 Diners can also indulge in the larder of Kaarla's native ingredients used by Australian First Nations Aboriginal people. It is a great introduction to peculiar flavour nuances that might intrigue your palette. Opt for the Kaarla Closed Loop Salad, with Rooftop Leaves and Flowers, Tiger Nut Curd and Daikon or a house-cured Carpaccio of Salt Cured Kangaroo with Sprouted Black Barley, and Finger Lime.
The menu offers a curated a la carte selection as well as two and three-course set lunch menus.
Another unique factor is Kaarla's garden-to-glass concoctions – a blend that marries Australian and Japanese ingredients – magically crafted by the restaurant's mixologists. Choose between the Coastal Isles, a tiki-style cocktail featuring rum-infused native Australian Geraldton Wax, or a Cold Brew Elixir, a rum and cold brew coffee liqueur-based cocktail. This selection is available in addition to iconic Australian wines and old-world wines.
6. Oumi
Sharing the same food philosophy as Kaarla, Oumi offers Australian-inspired Japanese cuisine. Oumi's Japanese classics are reinvented with indigenous Australian ingredients, delivering intriguing new flavours with a sense of familiarity.
Oumi's dining concept is 'nose-to-tail', displaying dishes in a myriad of preparation and cooking styles, whilst showcasing the season's best produce. Diners can choose to savour their selections as a sashimi, sushi, teppanyaki, robatayaki, tempura, or donabe. It is truly all about the experience, as you immerse yourselves in the art of 'cut and cook' from a coveted seat at the open kitchen counter.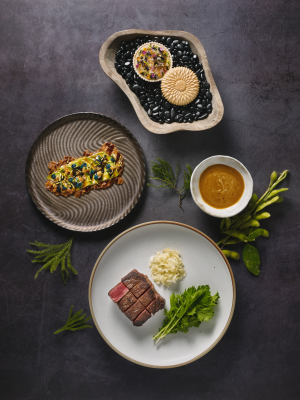 Decide between an 'omakase' multi-course meal curated through conversations between chef and diner, or a spread of a la carte communal-style dishes shared with friends and family. Oumi also offers a set lunch menu showcasing specials and signatures at S$75 for 4-courses.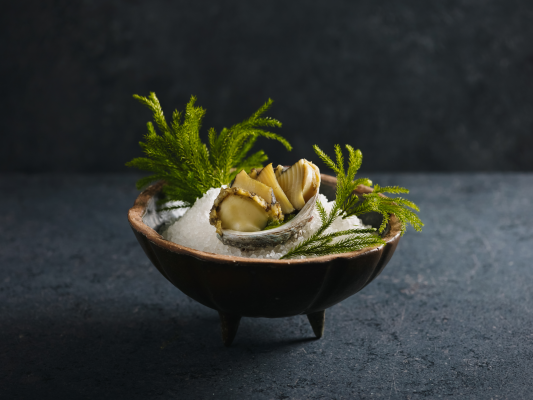 Highlights of Oumi's menu include its Nose-to-Tail Seasonal Seafood Selection consisting of Awabi – fresh live Australian abalone in its shell – covered with konbu and blanketed in sea salt, baked till succulently tender and accompanied with bright pesto, Ise Ebi prepared in either sashimi, donabe or bouillabaisse, and finished with a Kyoho Sorbet.
Additionally, authentic Japanese teas, artisanal sake, shochu, and Umeshu as well as Japanese gin, vodkas and whiskies are part of the extensive drinks selection carefully curated to complement Oumi's cuisine.
7. LAVO Italian Restaurant & Rooftop Bar
Aside from the return of its iconic Sunday Champagne Brunch in lieu of Mother's Day, LAVO Singapore is offering up a lavish Italian American buffet spread throughout the entire month of May. In addition to its regular menu, diners can enjoy a Butter Poached Lobster Benedict with Maltaise Sauce and Fennel Pollen, Tender Grilled Cod with Roasted Tomatoes and Aperol Butter, as well as a Classic Tagliatelle with Beef Ragout and Whipped Ricotta.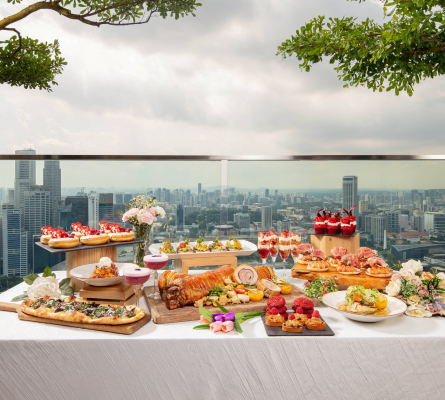 Its Mother's Day themed desserts and cocktails await, with Berries Crumble, Cookies and Cream Cheese Sandwiches, Champagne Parfait and Mamma Mia, a rich tangy mix of vodka, lemon juice, grenadine, Blue Caraçao and egg white.
Reservations can be made here.
8. Street Food Festival at Tiffin Room, Raffles Hotel Singapore
For exuberant flavours and aromas, the Tiffin Room is the place to be. Diners are sure to be left in awe at the impressive gastronomic spread of street food specialities with its limited-time menu 'Street Food Festival'.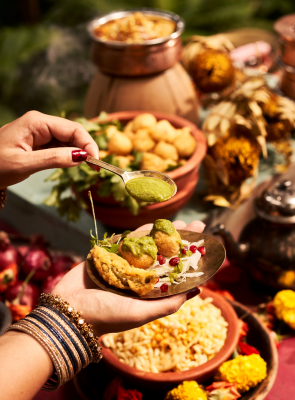 From 21 April to 5 May 2022, Tiffin Room presents iconic street food from various distinct parts of India. The menu will take you on an evocative culinary journey through India's diverse melting pot of flavours. Begin in Bombay with a Bhel Puri, a puffed rice mix tossed in sweet and spicy chutney, followed by Moong Dal Ladoo, a flavoursome yellow lentil, and radish dumpling from New Delhi.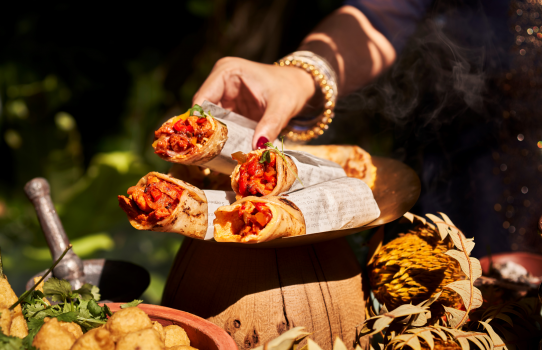 Punjab proudly honours its Amritsari Fried Fish, a marinated deep-fried fish recipe, Bharwa Mirchi, a Rajasthani stuffed chilli with potato and spices, and in Kolkata, a Kathi Roll, a deliciously smokey boneless chicken leg prepared alongside bell peppers, all enveloped in wheat flour bread.
Two exquisite main courses – Kheema Curry and Nazaqati Botti Pulao – are presented in its signature tiffin box, with an accompaniment of Onion Paratha. A vegetarian menu option is also available. The Street Food Festival menu runs during both lunch and dinner, with a limited selection of the regular Tiffin Room a la carte menu as well.
Reservations can be made here.
9. Bedrock Bar & Grill
Introducing the second edition if its 2022 World Meat Series, Bedrock Bar & Grill will be featuring a well-crafted selection of delectable dishes that highlight the exquisite Dingley Dell Suffolk Red Pork.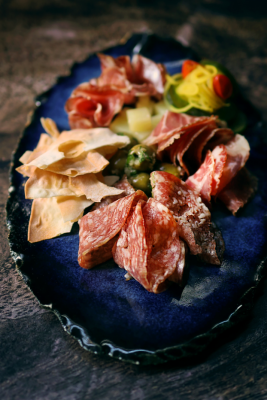 Running from now to 17 July 2022, enjoy a 5-course dinner tasting menu with wine pairing top-up option. There's no better way to begin a celebratory meal than with a Charcuterie Plate. Slow-cured cold cuts, homemade pickled cucumber, marinated olives, and Manchego cheese await. Moreish Bacon Wrapped Scallops follows in the second course, before the toothsome Breaded Pork Trotters with sides of pickled pumpkin and gribiche sauce.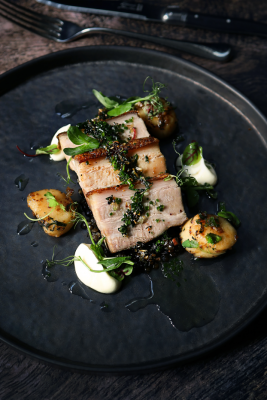 A Prune Stuffed Pork Tenderloin with robust and fruity brandied cherry sauce is the fourth course, before it ends on a sweet note with a Chocolate Pot de Crème.
This menu is a definite indulgence for pork-lovers. The tasting menu is available from Sunday to Thursday for dinner dine-in only. Diners can also opt for a la carte specials.
10. Tigress
Tigress is a funky Korean fusion gastrobar that serves casual fare with a side of post-meal fun. Tuck into signatures such as the Tigress Burger, juicy Australian wagyu patty, prosciutto, blue cheese, tomatoes, caramelised onions, pickles and the chef's house sauce and Honey soy chicken burger.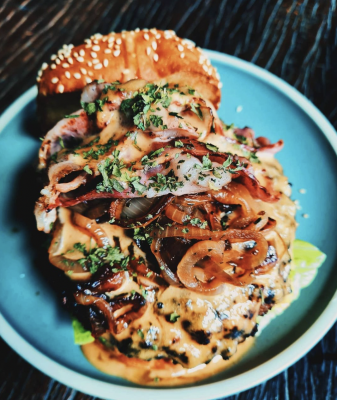 Other must-try dishes include the Spanish-style grilled spiced octopus, and Creamy burrata with wild mushrooms and black truffle shavings. After stuffing yourselves, challenge your dinner company with a game of billiards. The ambience is great for a laid-back get together, with an elevated version of a burgers and fries menu.