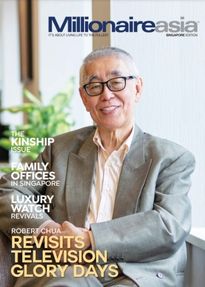 With 50+ years of broadcasting experience involving all aspects of television production and distribution, Robert has now turned his attention toward producing concepts and content for TV and the Internet. Robert pioneered terrestrial television in Hong Kong in 1967. As one of the first executive producers at Hong Kong's first terrestrial TV station, TVB, he brought the first ever live show to Hong Kong, starting off with a variety program (Enjoy Yourself Tonight), and created the first Miss Hong Kong pageant. He also produced Hong Kong's first charity marathon live show.
Robert soon became Production Manager at TVB and was eventually promoted to Special Assistant to the Managing Director. In early 1974 he attempted to visit China but it was not till in early 1979 that he was allowed to visit China to become the first media person in the world to enter the China television market.
A passionate food lover, he has travelled the world to find the best of traditional food culture. At the age of 67, he re-invented himself and ventured into the food and beverage industry to share his love for the Best of Hong Kong, introducing to the world the best of Hong Kong Dim Sum and Roast Foods. In 2013, he brought the Michelin-starred dim sum brand Tim Ho Wan and in 2016, another Michelin-starred brand Kam's Roast Goose to Singapore.