31 March 2022
By Alfieyah Abdullah
il Cielo at voco Orchard Singapore is helmed by Chef Marco Fregnan and restaurant manager, Ryan Hein. Together, they've curated a menu that embraces Italy's diverse culinary traditions whilst keeping the ideology of enhancing the simplicity of great ingredients.
A visit to il Cielo comes with a promise of good times, comfort Italian fare, and a laidback vibrant experience. Fair warning, the portions are reminiscent of an Italian grandmother's generosity, but well worth the sacrificed calories.
An introduction to the classics
Dining with a view set against a scenic skyline, diners can opt for seating at a charming outdoor space, or an intimate 28-seater indoor dining room.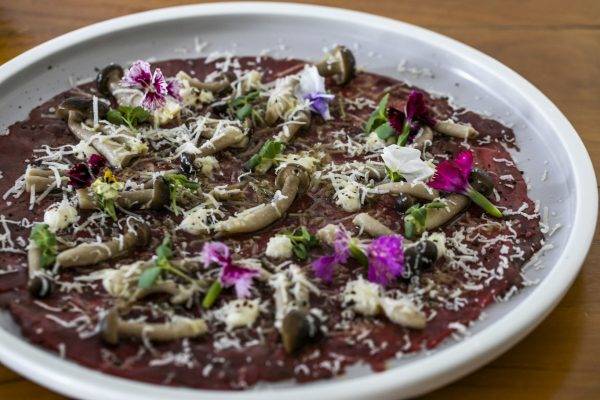 The culinary adventure through Italy begins with one of my personal favourites from the meal, Carpaccio, consisting of Angus beef tenderloin, mascarpone, shimeji mushroom, and 24-months aged Parmigiano Reggiano. The true heart of the carpaccio was truly honoured, with the sumptuous flavour of beef being the main stand-out.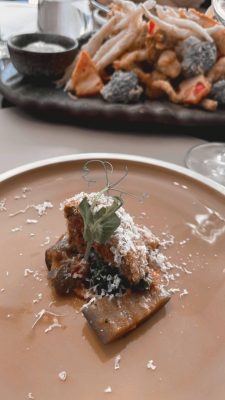 The surprise starter came in the form of an understated meatball: the Impossible Meatball to be exact. This crispy, plant-based meatball is filled with Mozzarella and olives, and sits on braised vegetables, with a generous garnishing of Parmesan. Meatless products have been a point of contention for many, including myself, and truly I was pleasantly surprised that the meatball had no lingering aftertaste which tends to put me off.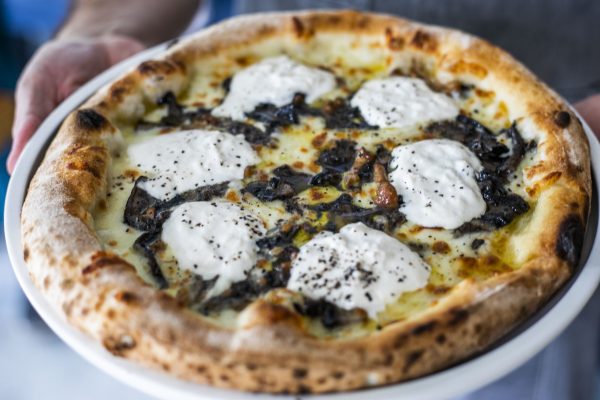 Still, I dub my personal best starter the Burrata e Tartufo Pizza. I enjoyed this balanced dish so much, I returned to il Cielo barely two weeks just for this. Generous Fior di Latte Mozzarella, mushrooms, fresh Burrata, and black truffle all put this pizza in the 'Last Supper' category. The pizza dough was fluffy, yet had perfectly crisp edges, and the proportion of toppings to dough was perfectly balanced. The truffle complemented the creaminess of the cheese and the earthiness of the mushrooms wonderfully as well.
A little touch of tradition
The pizza was not my only sinful indulgence that afternoon. il Cielo's range of mains showcase how much Chef Marco values Italian classics. The Manzo & Tartufo Tagliatelle made of chunks of Wagyu beef, braised in red wine and a Parmesan emulsion, finished with grated black truffle is enough to make you keel over. The depth of flavour in the emulsion alone would keep you going back for more, despite the richness of the dish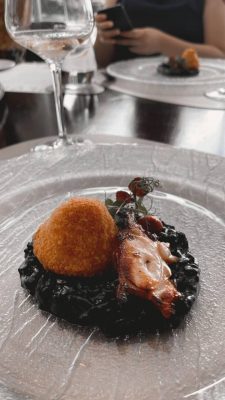 The Al Nero; a black ink risotto dish with Australian MSC octopus, crispy pumpkin croquette, and spicy harissa made me see octopus in a different light. The char on the octopus balanced out with the deep ink risotto and was accented beautifully with the sweetness of the pumpkin and hint of spice from the harissa. All the different levels melded together and still managed to provide a contrast that is much needed in risotto dishes to cut its sumptuousness.
A sweet ending
It's only fair that every meal ends with a sweet treat, and il Cielo's menu of umami goodness was rounded off with a Panna Cotta alle Nocciole; a hazelnut praline panna cotta, crunchy hazelnuts coated in caramel, caramel fudge, and marmalade. If Nutella was deconstructed into a dessert, this would be it. The toasty – almost burnt – hazelnuts added a welcomed bitterness to the caramel notes, and the dollops of marmalade acted almost like an amuse bouche, cleansing the palette after each bite of richness.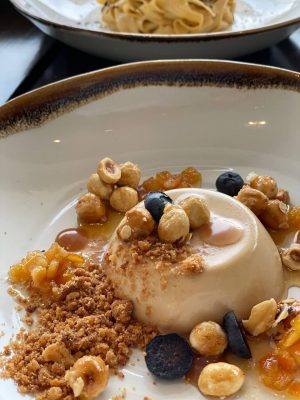 Dessert might not be everyone's cup of tea, but perhaps wine is more up your alley. Available only by the bottle, I recommend the "Gentleman" Pinot Grigio, Pavia Italy, from the Ferro 13 series. This smooth white goes down easy. Its acidic balance is an ideal pairing for a rich meal such as this one. For something more decadent, il Cielo crafts its Homemade Limoncello, made in-house with organically sourced lemons, which adds a burst of citrus into the course.
I could barely move after lunch. But as I always say, "It's better to waste our calories on good food than it is on bad," and I will continue to abide by that.
Images: il Cielo